A.M. Rosenthal Writer-in-Residence
The A.M. Rosenthal Writer-in-Residence Program brings professional nonfiction writers to the Shorenstein Center to research, write, and connect with the center community. The Writer-in-Residence is expected to:
conduct research and work on a specific book-length project.
interact with the Shorenstein Center community of scholars and students.
teach student workshops and participate in Shorenstein Center events.
The Rosenthal Writer-in-Residence is usually held for one academic year (September-May), and can be entirely in-residence in Cambridge or partially remote. Remote Rosenthal Writers-in-Residence are expected to travel to HKS for at least two or three weeks each semester, for in-person workshops, meetings, and community events.
History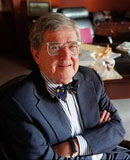 A.M. Rosenthal, former executive editor of The New York Times, was a passionate reporter and editor who had a profound influence on the shape of journalism. As an editor he oversaw the coverage of major news stories, including the Vietnam War, the Pentagon Papers, and the Watergate scandal. He won a Pulitzer Prize in 1960 for international reporting.
The program is supported by the generosity of Shirley Lord Rosenthal, the Bialkin Family Foundation, Mr. and Mrs. Ralph Lauren, the Samuel I. Newhouse Foundation, Peter G. Peterson, the Rattner Family Foundation, Ingeborg and Ira Leon Rennert, Richard E. Snyder, the A. Alfred Taubman Foundation, James D. Wolfensohn and the Wolfensohn Family Foundation.
Nominations
The A.M. Rosenthal Writer-in-Residence is selected by members of the Shorenstein Center community. We welcome nominations of journalists and nonfiction writers who would be a good fit for the fellowship.
To nominate yourself or another writer for the fellowship, please use this form. Nominations for the 2022/2023 academic year close on July 1, 2022.
A.M. Rosenthal Writers-in-Residence
2023: Adam Lashinsky
2019: Tara Westover
2018: Jelani Cobb
2014: Diane McWhorter
2012: Ron Suskind
2010: Tracy Kidder