Publications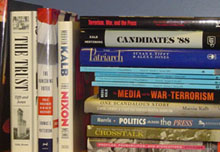 The Shorenstein Center publishes reports and papers written by fellows and affiliated researchers and faculty that examine themes associated with press, media, politics and the making of public policy.
Papers by former fellows have added significantly to the body of research on press and politics. The Shorenstein Center has had more than 300 Fellows since 1986, and nearly all of the papers they wrote at the Center can be found in our Research Archives.
For information about our current research projects, which are large-scale research endeavors lead by resident scholars and faculty at the Center, visit the Research Areas of Focus section of our website.
You can also learn about our current fellows and affiliated faculty to learn more about the independent research happening at the Center.