Through its numerous prizes and lectures, the Shorenstein Center recognizes the best journalists and authors working today, as well as politicians making a difference in the realm of public policy.
The Theodore H. White Lecture on Press and Politics commemorates the life of the reporter and historian who set the standard for contemporary political journalism and campaign coverage. Since 1989 the annual White Lecture has been delivered by a noted politician, journalist, or author, and is one of the highlights of the Center's year. The David Nyhan Prize honors outstanding work in the field of political journalism, and is awarded prior to the Theodore H. White Lecture.
The Goldsmith Awards Program has as its goal the encouragement of a more insightful, spirited public debate about government, politics and the press. It includes the Goldsmith Prize for Investigative Reporting, Goldsmith Book Prize, and the Goldsmith Career Award for Excellence in Journalism.
The Richard S. Salant Lecture on the Freedom of the Press was established in 2008 by the estate of Dr. Frank Stanton in honor of his longtime friend and colleague, Richard S. Salant, an ardent defender of the First Amendment and passionate leader of broadcast ethics and news standards.
A list of upcoming lectures and prizes is available on our events calendar, while information on past awards can be found in our archives.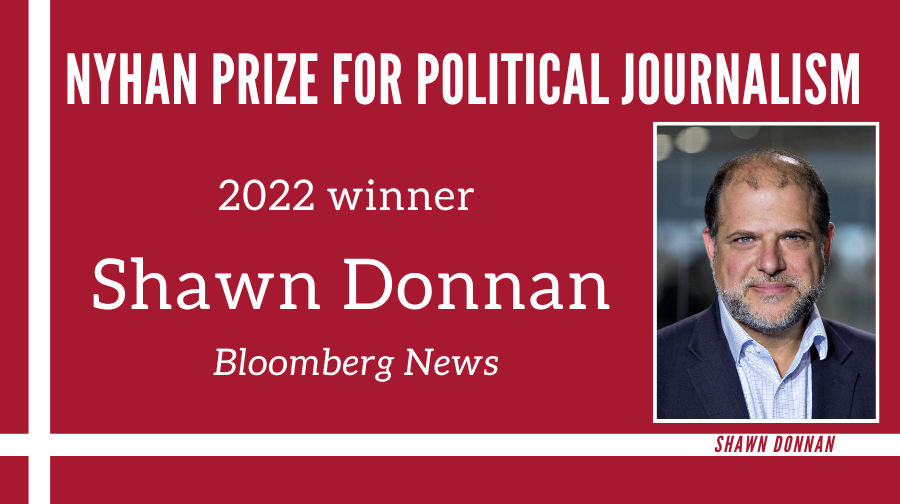 The Shorenstein Center on Media, Politics and Public Policy at Harvard Kennedy School announces the winner of the 2022 Nyhan Prize for Political Journalism: Shawn Donnan is senior writer for Bloomberg News, where he covers economics with an emphasis on where policy meets people and the real world. His reporting appears across the organization's many
Read More »