Digital platforms, while offering many benefits, also pose significant risks, including privacy concerns, misinformation, cyberbullying, and algorithmic biases. To address these issues, the Democracy and Internet Governance Initiative (DIGI) was launched in August 2021 as a collaborative effort between Harvard Kennedy School's Shorenstein Center on Media, Politics and Public Policy, and Belfer Center for Science and International Affairs. 
DIGI's first phase was co-chaired by Nancy Gibbs, Professor of Practice of Press, Politics and Public Policy, the Director of the Shorenstein Center, and former Editor-in-Chief of TIME, and the late Ash Carter, HKS Professor of Technology and Global Affairs, the former Director of the Belfer Center, and former U.S. Secretary of Defense.   
In July 2023, DIGI published the report, "Towards Digital Platforms and Public Purpose", the culmination of research and findings from the first two years of the initiative. It promotes a new risk-centered approach to analyze and address the negative impacts of digital platforms. This approach is crystallized by proposing key dimensions that should be considered when assessing platform risk. The report also provides a clear 'call-to-action' to private sector actors and civil society to develop comprehensive industry standards and disclosure schemes. Ultimately, it aims to contribute to a more informed, cross-sector, and proactive approach to platform governance.
Moving forward, DIGI will assess governance practices, regulatory frameworks, and research priorities for government, industry, and civil society to mitigate risks and protect democracy.
In 2023 and 2024, DIGI's research team, based at the Shorenstein Center, is producing a series of case studies and hosting convenings on mitigating online harms.  
As Nancy Gibbs emphasizes, "It is long past time we act – to protect individual rights and freedom; to protect our public goods and information ecosystem; and, ultimately, to protect democracy."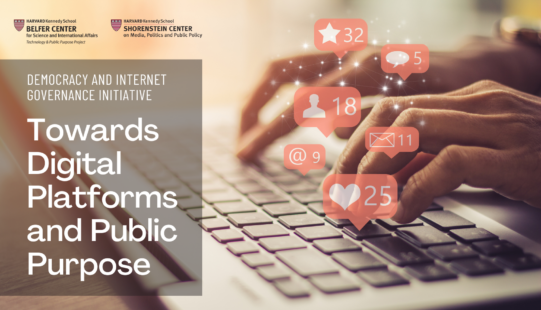 In Memoriam:
Ash Carter, Co-Founding PI
Laura Manley
Program Director
Rehan Mirza
Research Associate
Kevin Wren
Research Associate
Digital Platforms

Governance:

Proposals Index
The Digital Platform Governance: Proposals Index (DPGP Index) is a database of primarily U.S.-centric proposals aimed at mitigating the harms and risks created by social media platforms. The goal of the DPGP Index is to provide a tool for researchers across the public, academic, and private sectors to query and search a variety of proposed solutions from experts all over the world, all in one location. 
Publications
---
This paper serves as a summary report for the Democracy and Internet Governance Initiative. It delves into the rationale and components of a new risk-centered approach to analyze and address the negative impacts of digital platforms. Click here to read the DIGI Report>> 
This document presents a comprehensive blueprint for the establishment of a federal watchdog within the U.S. government, tasked with overseeing the digital services industry and enforcing standards as they are developed.  Read the Report >> 
This publication identifies the causal drivers of platform harms, based on research across academia, civil society, and industry. By identifying and aggregating these drivers, industry and government officials can focus their efforts on targeted interventions that counter the specific variables at issue. Read the Report >> 
This paper aims to address the standstill in progress related to mitigating harms resulting from digital platforms. By drawing on historical examples of industry betterments, it proposes that the most promising path forward is through a commitment to industry-wide voluntary standards setting. Read the Report >> 
Key takeaways from the analysis of the "Digital Platform Governance: Proposals Index" across Congress, U.S. agencies and the private sector. Read the Key Takeaways >>