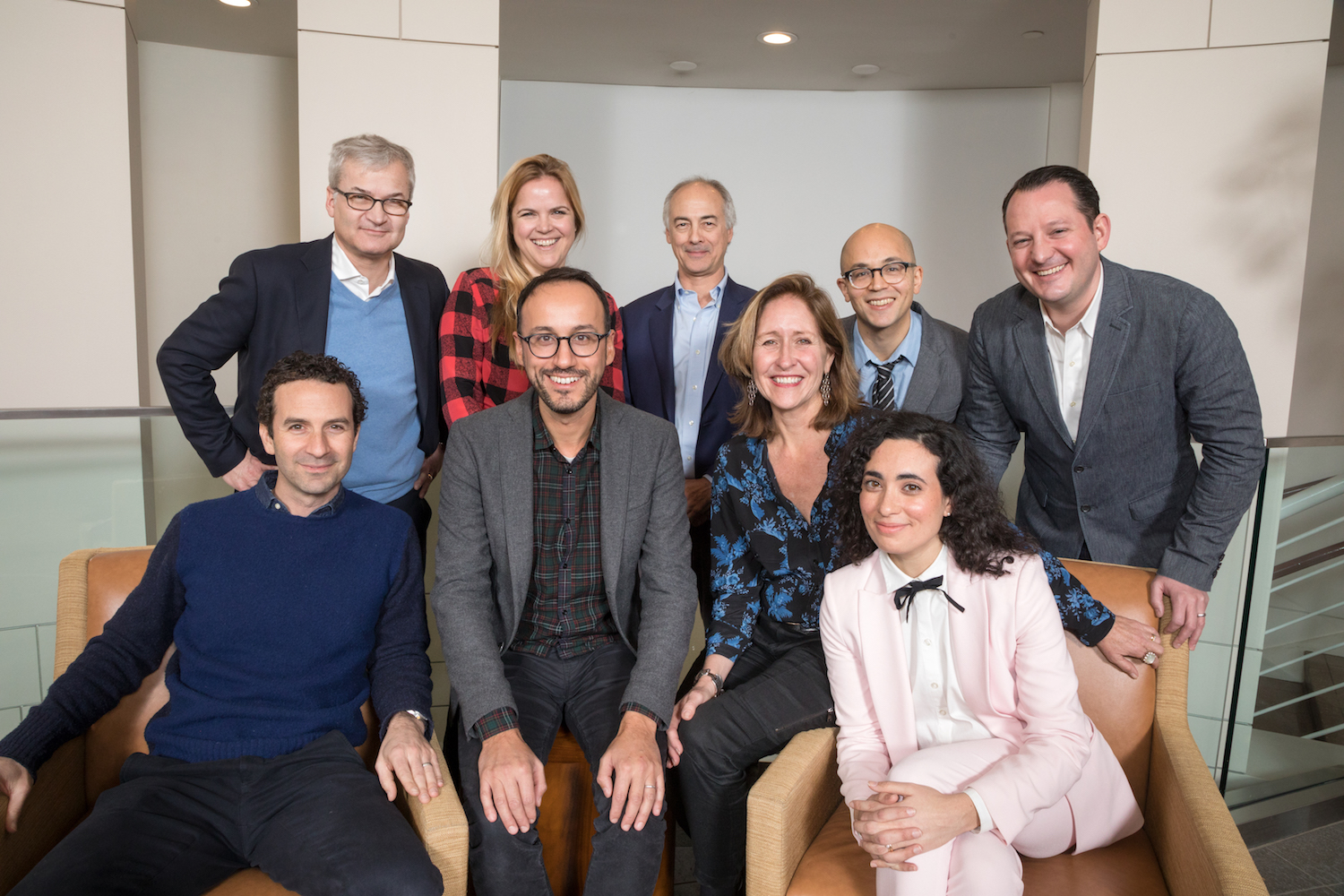 Background
Since the Shorenstein Center's founding in 1986, the Fellowship Program has been central to its mission examining the intersection of media, politics and public policy. The purpose of the Joan Shorenstein Fellowship Program is to advance research in the field of media, politics and public policy and facilitate a dialogue among journalists, scholars, policymakers and students.
View past Fellows and their work.
About the Joan Shorenstein Fellowship Program
The Joan Shorenstein Fellowship Program is designed to bring journalists, scholars, politicians and policymakers to the Shorenstein Center for a semester to work on a project with a tangible output, and engage with students, faculty, other fellows, and the broader Harvard Kennedy School community. They are expected to be fully-participating members of the Shorenstein Center community while in residence, attending and participating in Center events, social gatherings, and other activities.
Alumni fellows join the Shorenstein Center's Alumni Fellows Network, to stay connected with the Center and the large and growing group of former fellows all around the world.
Who should apply?
Career professionals from a variety of related fields are welcome to apply. Past fellows include journalists from local, national and international TV, radio, print, and digital media; media and civic technology innovators; nonfiction authors; documentary filmmakers; political advisors and policymakers; leading academic scholars in fields such as media research and political science; and policy analysts.
The Shorenstein Center is committed to diversity, and actively encourages applications from all demographic backgrounds, and across the political spectrum.
Am I eligible?
The guidelines below offer further detail on the types of experience that lead to a successful application and fellowship experience; however, if you unsure if you are eligible we encourage you to contact our staff to discuss further.
Journalist: Reporters, editors, columnists, producers, media business executives and related, with a minimum of ten years of full-time experience either at professional news organizations or as a full-time freelancer (not including work completed as a university student).
Politician: Someone who has been elected to a national or high-level state office, or high-level communications professionals within politics and policy, e.g. speechwriters, press secretaries. Minimum of ten years experience (can be cumulative between elected office and other roles).
Scholar: Tenured or tenure-track professor employed by a college, university or research institution in political science, political communication, journalism, technology studies, sociology, computer science, or a field relevant to the Shorenstein Center's areas of inquiry. 
Policymaker: High-level official in a cabinet office, or policy adviser to a candidate for national office or high-level elected official.
Documentary Filmmaker: Documentary filmmakers and/or academics and practitioners with expertise in documentary filmmaking as it relates to public interest media, and/or its intersections with journalism. Minimum of 10 years experience. 
Applicants should not have participated in another fellowship within the two years prior to their preferred semester.
Applicants must be fluent in English – listening, reading, writing and speaking. Non-native English speakers must provide TOEFL or IELTS score.
What is expected of a fellow?
Applicants must be available to be in residence, full-time, for the duration of their fellowship (Fall Semester: September through December, Spring Semester: February through May, or Full Year: September through May) in Cambridge, MA. 
The Fellowship is a full-time appointment, and applicants are expected to commit to the work of completing their primary research project and engaging in the life of the Center, its activities and events. It is understood that busy modern professionals will have occasional essential obligations, and the Center aims to be considerate and flexible in such circumstances. However, any applicant with professional, personal or travel commitments that would require significant time away should consider applying when their schedule allows for the full commitment of a fellowship.
What will I be working on?
The quality and originality of an applicant's project proposal is a key deciding factor in the selection process. The primary deliverable for a fellow is a research-based project that contributes to broad understanding of an issue within the information ecosystem, or addresses a problem related to journalism, media, public interest technology, or decision science (with ideal candidates focusing on the intersection of at least two of these areas and with an eye towards politics and/or public policy solutions). Project topics should fit into the existing work of the Center but provide a new angle or area of focus that is not covered specifically by one of the Center's existing programs
Projects can take many forms, including white paper, policy paper, annotated bibliography, podcast, video, or interactive. Projects should have an anticipated impact in society, and applicants should be able to clearly articulate their project's desired impact.
Fellows often work independently, with the assistance of a faculty mentor and research assistant, but some have also conducted a series of workshops with students, with the final output taking the form of a report or project illustrating the conclusions of the workshops.
Fellows' projects are published on the Shorenstein Center website, and many have been cross published or excerpted in a variety of high-profile media outlets and academic journals, or have become the basis for a longer book. 
Life as a Shorenstein Center fellow
In addition to their primary research project, fellows are expected to participate in a range of activities throughout the semester, including:
Minimum of one public speaking event and one student-facing event (workshop, roundtable discussion, etc.) per semester
Bi-monthly articles/interviews/expert opinion pieces for the Shorenstein Center site or one of the Center's program sites (The Journalist's Resource, etc)
One video interview/profile for the Center's website
Periodic student office hours (1-2 hours per month)
Regular meetings with fellowship cohort and faculty mentors
Final internal report of activities and output
The Center hosts several high-profile evening events each semester, including its long-running Theodore H. White Lecture on Press and Politics, Richard S. Salant Lecture on Freedom of the Press, and its flagship Goldsmith Awards featuring the presentation of a prize for the best investigative reporting of the year, and a career award for excellence in journalism. Fellows are encouraged to attend.
Elsewhere on campus, the John F. Kennedy Jr. Forum frequently features speakers from the highest levels of government for lively discussion and debate. The Kennedy School's other Centers and initiatives regularly host experts in a wide variety of topics, and Shorenstein Center fellows are often asked to speak. And the wider Harvard University calendar features hundreds of activities and events each week, including lectures, panels, exhibitions, music, theater, film, sports and much more.
Fellows receive a Harvard ID, which allows for discounted membership to Harvard's athletic facilities as well as tickets to museums, exhibitions, movies, sports and the performing arts. Previous fellows have used their free time to explore the rich cultural and historical offerings of the Boston and New England area. Several fellows have brought their partners, spouses or families with them for the semester, many of whom get involved in a variety of Harvard activities open to the public. We are not able to provide spouses or family members with Harvard IDs.
Financial assistance and other resources
Fellows receive a stipend, paid in monthly installments at the end of each month of their term. Travel, housing, and living expenses are not covered by the Shorenstein Center.
Fellows are provided with a desk in the Shorenstein Center offices, a Harvard email address, and a Harvard ID allowing access to libraries and other resources. 
Fellows are also able to select a paid Harvard Kennedy School student research assistant (eligible to work up to 10 hours per week) to help with their projects.
Application deadlines

Fall Semester (September – December) and full year (September – May): January 31 (application for Fall 2024 and Full Year 2024-25 now open!)
Spring Semester (February – May): September 12 (application for Spring 2024 is now closed)
Selection timeline
Fall Semester
January 31: Application deadline
March: Applicants or their references may be contacted for further information or interview. This is strictly informational; not all applicants or their references will be contacted and this should not be considered a sign of the success or otherwise of their application.
April: Applicants will be notified of their status.
Summer: The press release announcing the class of fellows will be posted.
Spring Semester
September 12: Application deadline
End of September: Applicants or their references may be contacted for further information or an interview. This is strictly informational; not all applicants or their references will be contacted and this should not be considered a sign of the success or otherwise of their application.
Early November: Applicants will be notified of their status.
End of Year: The press release announcing the class of fellows will be posted.
Questions? Contact Liz Schwartz.
Funding
This fellowship honors Joan Shorenstein Barone and is supported by the generosity of the Shorenstein family, the Jessie B. Cox Trust, the Gardner Cowles Trust, and the Goldsmith Fund of the Greenfield Foundation. Additional funding for fellowships provided by the Robert Wood Johnson Foundation, the A.M. Rosenthal Writer-in-Residence endowment, and individual donors.