About the Shorenstein Center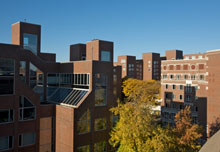 The Shorenstein Center on Media, Politics and Public Policy is a Harvard University research center dedicated to exploring and illuminating the intersection of press, politics and public policy in theory and practice. The Center strives to bridge the gap between journalists and scholars, and between them and the public. Through teaching and research at the Kennedy School of Government and its program of visiting fellows, conferences and initiatives, the Center is at the forefront of its area of inquiry.
To learn more about the Shorenstein Center, visit the pages dedicated to our history, director and staff, and the fellows, faculty, courses and events that enliven the academic year.