Building the Center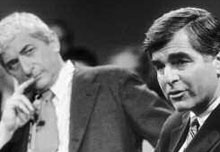 The distinguished political scientist Nelson W. Polsby was appointed Visiting Professor in the Frank Stanton Chair of the First Amendment and arrived in the fall of 1986. He also served as acting director of the Shorenstein Center. Polsby recruited the first fellows for the Center and hired a staff. The Center became home to graduate students from Harvard's government department and the Kennedy School and hosted brown-bag lunches and faculty seminars.
Guest speakers during the first year included Howell Raines, Leonard Downie, Geoffrey Smith, Tom Patterson, Alan Ehrenhalt, Dan Hallin, W. Russell Neuman, Stephen Hess and others. Polsby and Kennedy School professor Gary Orren co-taught a seminar on the press and politics and co-edited Media and Momentum: The New Hampshire Primary and Nomination Politics. The Center co-sponsored a conference on "Voting, Public Opinion and the 1988 Elections" with the National Election Studies.
On June 1, 1987, veteran journalist Marvin Kalb became director of the Shorenstein Center and Edward R. Murrow Professor of Press and Public Policy. The Murrow Chair was later endowed through generous gifts from G. Barry Bingham Jr., Mary Bingham, and many other individuals, corporations and foundations.
One of Kalb's first moves as director was to propose a series of television interviews with all of the presidential candidates. In the fall of 1987, the 12-part series "Candidates '88" aired on PBS. It featured Kalb's interviews with Republican and Democratic presidential candidates, broadcast live from the Forum at the Kennedy School. A book about the series was published, featuring essays on all the candidates by Shorenstein Fellow Hendrik Hertzberg.