Joan Shorenstein Barone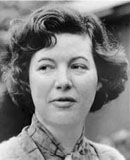 Joan Shorenstein Barone was born in San Francisco in 1947. She attended Mills College, where she was elected to Phi Beta Kappa, and did graduate work at Harvard Divinity School. While in graduate school, a fascination with politics led her to enroll in a study group at Harvard's Institute of Politics, which was taught by then–IOP Fellow David Broder. Broder was so impressed with Joan's enthusiasm and ability that he recommended her for a job as a political researcher at the Washington Post the following year, 1970.
The dedication that was to distinguish Joan's remarkable career was evident even at the beginning. Although she arrived at the Post with no journalism experience, she brought with her the qualities of a superb researcher—intellectual vigor, an impeccable memory and dogged persistence. In a column written soon after her death, Joan's Post colleague Lou Cannon recalled her "abundant energy and her willingness to tackle any project, no matter how many others she had under way." She was a particularly gifted researcher, who tended to go "beyond the specific question we put to her and answer the question we should have asked."
In 1973, when Watergate was the top news story in the country, Joan left the Post to join CBS News. Word soon spread around the newsroom that the young newcomer knew better than anyone else the names, faces, dates and events associated with the scandal. Joan's friend Lesley Stahl described her as a "walking encyclopedia" when it came to Watergate. Others fondly recall the collection of index cards on which, in her famously miniscule handwriting, Joan would write down every detail she could dig up on the story. According to Dotty Lynch, a former CBS colleague, those cards for a time served as the "institutional memory of CBS News, especially on Watergate." A year after starting at CBS Joan was made an associate producer of Face the Nation (she was to be appointed producer in 1979); the following year, 1975, she married political correspondent Michael Barone.
Through her professionalism and the sheer force of her personality, Joan commanded the respect of Washington's big players, and although she wore her influence lightly, her views were never in question. She was renowned, wrote Broder, "for being a stickler on the details" and for "never letting a politician or a reporter slide off the hard points of evidence or argument."
After the 1984 presidential campaign, during which she was a CBS News producer specializing in politics, she joined the Washington staff of The CBS Evening News with Dan Rather as a producer. Joan held this position until the cancer she had fought for 10 years finally claimed her life in 1985. She was 38 years old.
Joan Shorenstein left behind a legacy of excellence. On October 1, 1986, a few days after the Shorenstein Center's inauguration, Joan's longtime friend David Broder wrote a piece in which he considered how the Center could best honor the memory of this exceptional journalist. "The new Harvard center can do a service," he wrote, "if it just finds a way to embody and communicate the standards to which Joan Barone devoted her professional life."