Walter H. Shorenstein
(1915-2010)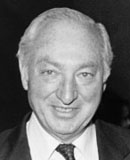 Walter Shorenstein joined the brokerage firm Milton Meyer & Company in 1946 after being discharged from military service as a Major. In 1951, he was made a partner in the firm, and in 1953 he was named a "Leader of Tomorrow" by Time Magazine. By 1960, Mr. Shorenstein had become president and sole owner of Milton Meyer & Company (which was subsequently renamed Shorenstein Company). Under his leadership, Shorenstein Company became the largest owner and operator of Class A office buildings in San Francisco, and forged lasting relationships with institutional partners such as IBM, Bechtel, MetLife and Bank of America. After Mr. Shorenstein stepped back from day-to-day management of the company in the early 1990s, his deep experience continued to offer the company an important source of strategic guidance and advice. In recognition of his business accomplishments and his contributions to the civic life of the Bay Area, Mr. Shorenstein was inducted into the University of Southern California's Real Estate Hall of Fame in 1997, and the Bay Area Council's Business Hall of Fame in 1998.
Mr. Shorenstein demonstrated his interest in building a better community and nation through his philanthropic and political activities. He was a steadfast supporter of the Democratic Party, and in 1997 received the Democratic National Committee's Lifetime Achievement Award. Mr. Shorenstein was an advisor to Presidents Lyndon Johnson, Jimmy Carter, and Bill Clinton.
In 1993, Mr. Shorenstein played a major role in forming an investor group to retain the San Francisco Giants when they were considering a move to Florida, in 1995, Mr. Shorenstein chaired the United Nations 50th Anniversary Charter Commemorative Celebration in San Francisco, and in 2009 Mr. Shorenstein worked with the Clinton Global Initiative to support the recovery of New Orleans' Broadmoor neighborhood following Hurricane Katrina.
In memory of his daughter Joan, Mr. Shorenstein and his late wife, Phyllis, founded the Shorenstein Center on Media, Politics and Public Policy at Harvard's Kennedy School of Government. He also sponsored the Shorenstein Initiative at Stanford University's Asia/Pacific Research Center, as well as programs at UC Berkeley's Institute of East Asian Studies.