The Shorenstein Center on Media, Politics and Public Policy is pleased to announce the Fall 2023 cohort of Shorenstein Fellows.
Shorenstein Fellows join the center for a semester or year of research, events, and engagement with HKS students, faculty, and the wider university community. This semester's fellows are working on research related to artificial intelligence; the intersections of media, race and technology; the impacts of authoritarianism; strategic communications for national security; and film and independent media distribution.
Yevgenia Albats | Walter Shorenstein Media and Democracy Fellow

Yevgenia Albats is a Russian investigative journalist, political scientist, author and radio host. She is editor-in-chief and CEO of The New Times, a Moscow-based, Russian-language, independent political weekly. Since 2004, Albats has hosted Absolute Albats, a talk-show on Echo Moskvy, the last remaining liberal radio station in Russia, until it was taken off the air ten days into Russia's war with Ukraine. Albats is currently living in the United States after she was forced to leave Russia facing persecution in Moscow for her reporting on the war in Ukraine. Albats was among the last Russian journalists to leave. Previously, Albats was an Alfred Friendly Press Fellow assigned to The Chicago Tribune in 1990 and a Nieman Fellow at Harvard University in 1993.  She graduated from Moscow State University in 1980 and received her Ph.D. in Political Science from Harvard University in 2004. She has been a member of the International Consortium of Investigative Journalists (ICIJ) since its founding in 1996. Since 2003, Albats has taught political science at Yale, the National Research University Higher School of Economics in Moscow, the University of Michigan, and New York University. She has been studying the secret services of the U.S.S.R and Russia since 1987, and is the author of four independently researched books, including The State Within a State: The KGB and its Hold on Russia – Past, Present & Future. While in residence at the Shorenstein Center she will be researching and writing a new book on the history of Russian politics and its impacts on society.
Julia Angwin | Walter Shorenstein Media and Democracy Fellow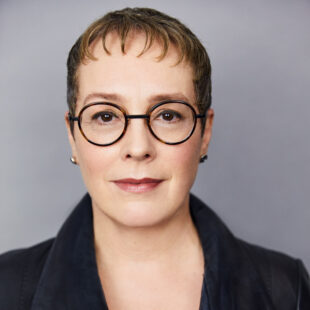 Julia Angwin is a Pulitzer-Prize winning contributing Opinion writer for the New York Times who writes about the impacts of technology on societies. She is an investigative journalist and entrepreneur who founded The Markup, an award-winning nonprofit newsroom that produced methodologically precise investigative journalism. She also led data-driven investigative teams at ProPublica and The Wall Street Journal that were each finalists for the Pulitzer Prize, and was a member of a Pulitzer Prize winning team at The Wall Street Journal. Her New York Times bestseller, "Dragnet Nation: A Quest for Privacy, Security and Freedom in a World of Relentless Surveillance" (MacMillan, 2014), chronicled her attempts to evade having her personal data exploited, and called on us to take a collective approach to protecting privacy. Her book "Stealing MySpace: The Battle to Control the Most Popular Website in America" (Penguin Random House, 2009), was an early look at the promise of social networks and the boardroom battles to control the emerging technology. She is currently an entrepreneur-in-residence at the Columbia Journalism School's Brown Institute. At the Shorenstein Center she will be working on a book about the impacts of artificial intelligence on human flourishing and researching new opportunities and methods for data-driven accountability journalism.
Keri Putnam | Walter Shorenstein Media and Democracy Fellow


Keri Putnam is an award-winning senior media executive, producer, board member, and strategic advisor to media companies and nonprofit organizations. Throughout her career, she has supported, developed, and produced bold, original media from new and established talent and advocated for a more diverse and inclusive media. In 2022, Putnam founded Putnam Pictures to produce film and television from creators with distinct and adventurous vision. Previously, Putnam served as CEO of Sundance Institute from 2010-2021. She led the Sundance Film Festival and a wide array of year-round global lab and granting programs for new storytellers in film, series, documentary, theater, and new media. Prior to Sundance, Putnam served as President of Production at Miramax Films, a division of the Walt Disney Company. While at The Shorenstein Center, she will research and report on the state of independent media in the U.S., with a particular eye on the lack of opportunity for long-form storytelling today.
Brandi Collins-Dexter | Schuster Media and Technology Fellow


Brandi Collins-Dexter researches, writes, and presents on issues pertaining to Black participation in democracy and the US economy, with particular focus on the role technology and information integrity play in improving or deteriorating community health. As former Senior Campaign Director of media, culture and economic justice at Color Of Change, she led a number of successful and highly visible campaigns for corporate and government accountability and has also worked extensively with Silicon Valley companies on key corporate policy changes. Collins-Dexter has testified in front of congress on matters relating to online privacy, racialized surveillance and information integrity, and is a regular commentator in the media on racial justice and tech. Her critically acclaimed book Black Skinhead: Reflections on Blackness and Our Political Future, uses a combination of pop culture analysis, digital ethnography and investigative journalism to understand the history and trajectory of Black political, economic and social power in the United States. As a Schuster Fellow at the Shorenstein Center she will be conducting research on the intersections of media, race, and technology.
Camilla Monckton | Joan Shorenstein Fellow


Camilla Monckton is Head of Strategic Communications in the UK Cabinet Office. She leads on a program of work to counter disinformation by partnering with governments in Central & Eastern Europe to build strategic communications capability to improve resilience to hybrid threats. She has worked with the UN, Governments, and think tanks on security and development challenges globally. Her interest in the geopolitical implications of a rapidly evolving information environment started when advising the UK Anti-Slavery Commissioner amid Europe's migration 'crisis' in 2015. Unfettered access to smartphones was transforming the way people moved and rapidly. Governments struggled to understand, adapt and react. Monckton then started working with Governments to help track and understand migrant smugglers' exploitative false narratives and how to interact with them and their implications – working across West Africa, South Asia, and the Middle East. Now back in the UK Government, and as a Shorenstein fellow, she is looking at the implications of the transformed information environment on national security in the face of foreign interference. Specifically looking at how to adapt and modernize communication structures to build resilience to hostile state influence operations, drawing on her experience working on allied coordination and strengthening of communications in response to Russia's full scale invasion of Ukraine.
Additionally, Spring 2023 Joan Shorenstein Fellow Tom Casciato will continue his work at the Shorenstein Center as a full-year appointment.
To learn more about the Shorenstein Fellowship program and apply to be a fellow visit shorensteincenter.org/joan-shorenstein-fellowship.