Media Manipulation and the 2020 Election: Protecting Our Democracy
Wednesday, September 23, 2020
10:30 am -
12:00 pm
EDT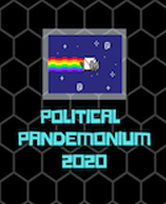 The Technology and Social Change Project's (TaSC) Political Pandemonium 2020 is a series of three digital workshops exploring the harmful effects of media manipulation on our society. These gatherings will each focus on a unique subtopic of interest to both the field of Critical Internet Studies and the broader public concerns about disinformation in elections.
---
Media Manipulation and the 2020 Election: Protecting Our Democracy, the third workshop in the series, will feature a conversation between Dr. Joan Donovan, Research Director of the Shorenstein Center, Jacobo Licona, Disinformation Researcher for Equis Labs, Dr. Jonathan Metzl, Director of the Department of Medicine, Health, and Society at Vanderbilt University, and Bridget Todd, Founder of Unbossed Creative.
This session will examine how media manipulation and disinformation is playing an active role in undermining American democracy and disrupting the 2020 presidential election. During the workshop, our speakers will examine the following questions: how has social media come to play such a pivotal role in the election process? How can we address and combat manipulators' efforts to suppress voter turnout? How do networked factions manipulate information for political gain?
10:30 AM – 11:15 AM – Discussion with Joan Donovan, Jacobo Licona, Dr. Jonathan Metzl and Bridget Todd
11:15 AM – 12:00 PM – Overview of the Media Manipulation Life Cycle, Wedge Issues, and How to Detect the Tactics of Disinformers
This workshop is limited to 30 participants – please apply here. A portion of the event will be recorded and available online.
---
Jacobo Licona is a disinformation researcher for Equis Labs, a research and experimentation hub identifying new ways to reach and engage Latino voters. Prior to working for Equis, Jacobo helped lead research efforts for two 2020 presidential campaigns and various campaign committees. He's also provided research and communications support for progressive and Latinx organizations.
Jonathan Metzl, MD, PhD is the Frederick B. Rentschler II Professor of Sociology and Psychiatry, and the director of the Department of Medicine, Health, and Society, at Vanderbilt University in Nashville, Tennessee. He received his MD from the University of Missouri, MA in humanities/poetics and psychiatric internship/residency from Stanford University, and PhD in American culture from University of Michigan.  Winner of the 2020 Robert F. Kennedy Human Rights Award, the 2020 APA Benjamin Rush Award for Scholarship, and a 2008 Guggenheim fellowship, Dr. Metzl has written extensively for medical, psychiatric, and popular publications about some of the most urgent hot-button issues facing America and the world.  His books include The Protest Psychosis, Prozac on the Couch, Against Health: How Health Became the New Morality, and Dying of Whiteness: How the Politics of Racial Resentment is Killing America's Heartland. 
Bridget Todd is the creator and host of iHeartRadio's critically acclaimed podcast There Are No Girls on the Internet. She got her start teaching courses on writing and social change at Howard University. Since then, she's trained human rights activists in Australia, coordinated digital strategy for organizations like Planned Parenthood, the Women's March, and MSNBC, and ran a training program for political operatives that the Washington Post called the Democratic Party's "Hogwarts for digital wizardry." Formerly, she cohosted iHeartMedia's Stuff Mom Never Told You podcast bringing feminist issues to 2 million ears a month and hosted a global salon with AFROPUNK where she talked to high-profile women like Ava Duvernay and #MeToo creator Tarana Burke.