Investigative Reporting: Making an Impact on Policy and Governance
Tuesday, March 6, 2018
3:30 pm -
5:00 pm
EST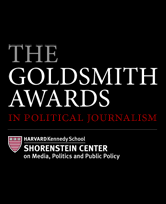 A panel discussion with the finalists and special citation awardees for the Goldsmith Prize for Investigative Reporting. Panelists will discuss the making of their stories, which include coverage of the Russia investigation, injustice in the Chicago legal system, opioid addiction, sexual harassment and assault, and other pressing issues. Open to the public.
Panelists: 
Shannon Mullen, Staff Writer, Asbury Park Press
Melissa Segura, Investigative Reporter, BuzzFeed News
Carol Marbin Miller, Investigative Reporter, Miami Herald
Emily Steel, Reporter, The New York Times
Nina Martin, Reporter, ProPublica
David Armstrong, Senior Writer, STAT
Rosalind Helderman, Staff Writer, The Washington Post
Nicco Mele, Shorenstein Center Director (moderator)
Read more about the finalists and their stories. 
The winner will be announced at the Goldsmith Awards Ceremony on March 6, 6pm. Learn more.