Past Fellows and Visiting Faculty
Fall 2012 Fellows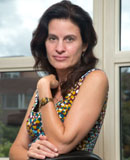 Tara McKelvey is a correspondent for Newsweek and The Daily Beast. She has written for The New York Times Book Review, Marie Claire, and The American Prospect. McKelvey was awarded a Guggenheim Fellowship in 2011 in General Nonfiction. She is the author of Monstering: Inside America's Policy of Secret Interrogations and Torture in the Terror War and has been a contributor to two other books, New Threats to Freedom and The Impact of 9/11 and the New Legal Landscape. She taught a course on National Security and the Media at Georgetown University's School of Foreign Service. For her investigative work on national security, she has received support from Northwestern University's Carnegie National Security Journalism Initiative and the Alicia Patterson Foundation. As a Fellow at the Shorenstein Center, McKelvey will be writing about the relationship between the media and U.S. covert operations.
Discussion Paper: Media Coverage of the Drone Program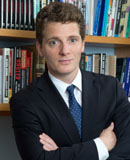 Matthew Nisbet is an associate professor of communication and director of the Climate Shift Project at American University. He has written over 50 studies, book chapters and monographs examining the communication dynamics of policymaking and public affairs, focusing on science, the environment and public health. Nisbet has been named a Health Policy Investigator at the Robert Wood Johnson Foundation and is an inaugural member of the Google Science Communication Fellows program. He writes and edits the Age of Engagement blog at Big Think. Nisbet holds a Ph.D. and M.S. in Communication from Cornell University. He has an undergraduate degree in government from Dartmouth College. Nisbet's research project at the Shorenstein Center will focus on "Knowledge Journalism: Storytelling in a Risk Society."
Discussion Paper: Nature's Prophet: Bill McKibben as Journalist, Public Intellectual and Activist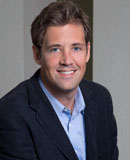 Joshua Partlow is a foreign correspondent for The Washington Post. Between 2009 and 2012, he was the paper's Kabul bureau chief. Before going to Afghanistan, he worked as the Post's correspondent in South America, based in Rio de Janeiro, and as a correspondent in Iraq. Partlow joined The Washington Post in 2003. He was on the financial desk and later worked for the metro section covering the Maryland suburbs as a general assignment and police reporter. In 2010, Partlow and his Post colleague Rajiv Chandrasekaran won an Overseas Press Club award for the best newspaper or news service reporting from abroad for their series on the war in Afghanistan. He has masters degrees in international affairs and in journalism from Columbia University, and earned his undergraduate degree in environmental sciences and policy from Duke University. While a Fellow at the Shorenstein Center, he will write a paper about the U.S. media strategy in Afghanistan.
Discussion Paper: Podium Wars: President Hamid Karzai, the Foreign Press, and the Afghan War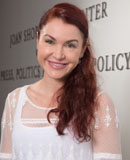 Kathleen Reen is a vice-president at Internews, an international non-profit organization that seeks to empower local media worldwide. She leads the development, design and implementation of their media and information programs across Asia, global internet initiatives, and environmental programs. Reen has a background as a journalist and documentary film producer in Eastern and Southern Europe and Southeast Asia. Reen was named a Young Global Leader by the World Economic Forum, is an Asia 21 Global Fellow of the Asia Society, and serves on several boards, including the Indonesian Media Law and Policy Center, the Earth Journalism Network, and the International Center for Communication and Development. While a Fellow at the Shorenstein Center, she will examine the relationship between international development, the media, and the global Internet.
Fall 2012 Visiting Faculty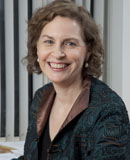 Susan Crawford is the Visiting Stanton Professor of the First Amendment at the Kennedy School and a Visiting Professor at Harvard Law School. She is a professor at Cardozo Law School in New York City and a columnist for Bloomberg View and Wired. She served as Special Assistant to the President for Science, Technology, and Innovation Policy (2009) and co-led the FCC transition team between the Bush and Obama administrations. Ms. Crawford was formerly a professor at the University of Michigan Law School. She was a member of the board of directors of ICANN from 2005-2008. She is one of Fast Company's Most Influential Women in Technology (2009); an IP3 Awardee (2010); and one of Prospect Magazine's Top Ten Brains of the Digital Future (2011). Ms. Crawford received her B.A. and J.D. from Yale University. She served as a clerk for Judge Raymond J. Dearie of the U.S. District Court for the Eastern District of New York, and was a partner at Wilmer, Cutler & Pickering (now WilmerHale, Washington, D.C.). In 2012 Yale University Press will publish her book, The Big Squeeze: The Crisis in American Communications. She will be teaching a Kennedy School course entitled "Solving Problems Using Digital Technology."