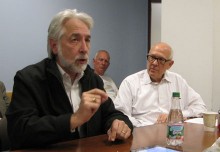 April 30, 2013 – Google's head of news and social products Richard Gingras spoke to the Shorenstein Center about the evolution of the news ecosystem, and how media institutions can stay relevant in a changing technological landscape.
Gingras, who describes himself not as a journalist, but as a "technologist," reflected on why the news industry has experienced such changes in the past decade. "In our consumption of news, our whole approaches to discovery of news have changed dramatically," he said, "and this has had a huge impact on the nature of media and news products and their intended business models." The Internet has developed in such a way that "everything has changed," not only the news itself but the way in which users approach and consume it.
He outlined three key things in the Internet's development that have impacted the news industry: search, blogs and social. Search engines were the first major advancement of the Internet, and not only provided voluminous information for every query, but also allowed users to "discover new voices." The blogosphere took off and helped increase traffic across the web. The social sharing dimension, he said, has had a greater impact than search and blogs. While discovery through search engines "comes from a direct intent," with answers and voices on a specific topic, the social sphere "opens it up to serendipity," and users discover news and information shared by a friend that they might not have found directly.
Gingras prefers not to think of the future of journalism as a "transition" – a "dirty word," he says – but as a chance for innovation, a blank canvas, without the "baggage of the past." Trying to make old products work in a new and quickly changing environment, he said, only leads to "incremental decision making…and compromise," while competitors are creating new products from scratch that better fit the emerging media landscape. "Media companies who survived the disruption tended to do so because they acquired new players who were effective in the new environment," he said.
While he admits it's not easy, Gingras encourages "creating cultures of innovation in media institutions" so that everyone is thinking innovatively, not just at the top levels. "The future of journalism will be better than its past," he concluded, but added that "there is a lot more work to do:  we have to embrace new forms, techniques, technologies, capabilities – and get comfortable with the chaos that comes with an open environment to help our readers and consumers begin to parse that chaos into knowledge vs. data, fact vs. fiction."
Article and photo by Janell Sims, Shorenstein Center.