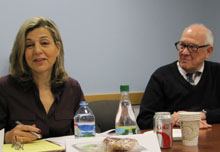 February 12, 2013 – Margaret Sullivan, Public Editor of The New York Times, outlined two opposing sides on the issue of how social media is changing traditional reporting and objectivity. To illustrate the distinction, Sullivan used examples written by two thought-leaders in journalism:  Tom Kent, standards editor for the Associated Press, Jay Rosen, a journalism professor at New York University.
Kent, Sullivan explained, falls on the traditional, conservative side of the issue, and believes that because "everyone understands objectivity differently…it is a dangerously fuzzy concept…and we dismiss it at our peril." Journalists should keep their own personal opinions and beliefs to themselves, he says, in order to keep a "commitment to balance." Sullivan added that Kent has stated that social networks have the potential to "undermine the credibility of journalists, if used carelessly."
On the other hand, Sullivan pointed out, Rosen thinks that objectivity is an "outdated concept" and that journalists should let their audience see their own point of view. What he calls the "view from nowhere" – traditional journalistic impartiality – "is getting harder to trust, and 'here's where I'm coming from' is more likely to be trusted."
While Sullivan admitted great respect for both Kent and Rosen, she says she falls closer to the conservative side of the spectrum. Yet she recognizes that while social media can create problems, it can also "create opportunity – it's a way to communicate that we haven't had before." For example, in the immediate aftermath of the shooting in Newtown, Connecticut, there were "a mass of inaccuracies" in reporting, Sullivan said. But the inaccuracies were soon corrected, and the truth about the incident spread widely and quickly. In this way, she said, social media was a "double-edged sword – it perpetuated inaccuracies but then quickly worked to correct them," as if there were an "entire world of public editors."
In her opinion, Sullivan says that for reporters – not op-ed columnists or advocacy bloggers – "it makes sense to keep their politics under wraps" in order to keep their audience from "immediately pre-judging and distrusting them" for favoring a particular party or politician.
Article and photo by Janell Sims, Shorenstein Center.