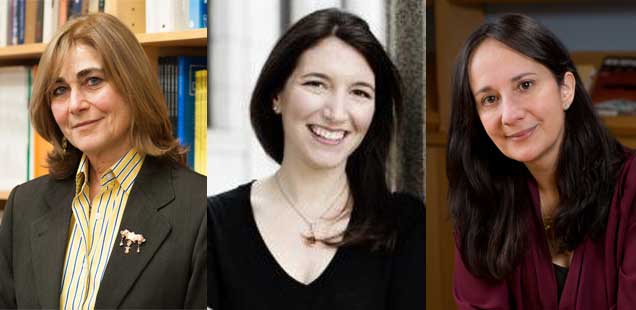 Monday, April 11, 2016, 3:30-5:00pm
Austin Hall West, Classroom 111, Harvard Law School
Herbert C. Kelman Seminar on International Conflict Analysis and Resolution featuring speakers:
Jacqueline Bhabha, Professor of the Practice of Health and Human Rights, Harvard T.H. Chan School of Public Health; Jeremiah Smith Jr. Lecturer, Harvard Law School; University Adviser on Human Rights Education, Director of Research, FXB Center; Carr Center for Human Rights Policy
Dara Kay Cohen, Assistant Professor of Public Policy, Harvard Kennedy School, Ash Center for Democratic Governance and Innovation

Joanna Jolly, Joan Shorenstein Fellow, Spring 2016; BBC South Asia Editor and Washington Reporter
About the speakers:
Jacqueline Bhabha is FXB Director of Research, Professor of the Practice of Health and Human Rights at the Harvard T.H. Chan School of Public Health, the Jeremiah Smith Jr. Lecturer in Law at Harvard Law School, and an Adjunct Lecturer in Public Policy at the Harvard Kennedy School. She received a first class honors degree and an M.Sc. from Oxford University, and a J.D. from the College of Law in London.
From 1997 to 2001, Bhabha directed the Human Rights Program at the University of Chicago. Prior to 1997, she was a practicing human rights lawyer in London and at the European Court of Human Rights in Strasbourg. She has published extensively on issues of transnational child migration, refugee protection, children's rights and citizenship. She is the editor of Children Without a State (2011), author of Moving Children: Young Migrants and the Challenge of Rights (forthcoming, Princeton University Press, 2014), and the editor of Coming of Age: Reframing the Approach to Adolescent Rights (forthcoming, UPenn Press, 2014).
Bhabha serves on the board of the Scholars at Risk Network, the World Peace Foundation, and the Journal of Refugee Studies. She is also a founder of the Alba Collective, an international women's NGO currently working with rural women and girls in developing countries to enhance financial security and youth rights.
Dara Kay Cohen is an assistant professor of public policy at the Harvard Kennedy School. Her research and teaching interests span the field of international relations, including international security, civil war and the dynamics of violence, gender, and conflict. Her forthcoming book, Rape During Civil War (Cornell University Press, 2016), examines the variation in the use of rape during recent civil conflicts; the research for the book draws on extensive fieldwork in Sierra Leone, Timor-Leste and El Salvador.
Her research has appeared or is forthcoming in the American Political Science Review, World Politics, Journal of Conflict Resolution, Journal of Peace Research, International Security, and Stanford Law Review, and has been funded by the National Science Foundation, the United States Institute of Peace, Folke Bernadotte Academy and the Peace Research Institute Oslo, among others.
In 2011, Cohen was awarded the American Political Science Association's Award for Best Dissertation in Women and Politics, and in 2014, Cohen received the Heinz I. Eulau Award for the best article published in the American Political Science Review in the previous year.
Cohen received her Ph.D. in political science from Stanford University and an A.B. in political science and philosophy from Brown University. Cohen served as a paralegal in the Outstanding Scholars Program in the Counterterrorism Section of the U.S. Department of Justice from 2001-2003. Prior to joining the Kennedy School faculty, she was an assistant professor at the Humphrey School of Public Affairs at the University of Minnesota.
Joanna Jolly is the BBC's South Asia editor, based in London, who was also recently assigned to the BBC's Washington bureau as a feature reporter. Over the past decade she has worked as a radio producer in London, Brussels and Jerusalem. Jolly has also spent several years based in South Asia, first as the regional producer in Delhi and later as the BBC Nepal correspondent in Kathmandu. Jolly specializes in radio documentaries and long-form journalism. She won the 2015 Amnesty International Award (radio) for the BBC documentary Red River Woman. While at the Shorenstein Center, Jolly will explore how media campaigns around sexual violence shape public policy.