Past Fellows and Visiting Faculty
Spring 2003 Fellows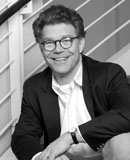 Al Franken, political satirist, is an Emmy Award–winning television writer and producer, a New York Times bestselling author, and a Grammy-winning comedian. In 1975, Franken was part of the original writing staff that created "Saturday Night Live" (SNL). He remained with SNL until 1980 and returned to the show in 1985. He remained for another 10 years, leaving after the 1994–95 season. Franken received four Emmys for his writing on "Saturday Night Live" and a fifth for producing. He also won recognition for his on-camera work with characters such as Stuart Smalley, the new-age cable TV host. Smalley, the subject of Franken's 1992 book, I'm Good Enough, I'm Smart Enough and Doggone It, People Like Me, also provided the basis for the 1995 movie "Stuart Saves His Family" which Franken wrote and starred in for Paramount Pictures. Franken was co-writer of the 1994 movie "When a Man Loves a Woman." He is the author of Rush Limbaugh is a Big Fat Idiot and Other Observations; Why Not Me: The Making and Unmaking of the Franken Presidency, and his latest book, Oh, the Things I Know: A Guide to Success, or Failing That, Happiness. These three books were all New York Times bestsellers. Franken grew up in Minnesota and is a graduate of Harvard College. Franken is working on a book examining whether or not there is a liberal bias in the media, including a look at the media's treatment of George W. Bush and his administration.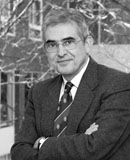 Esteban López-Escobar was born and brought up in Asturias in northern Spain, where he took his first degree in the law school of Oviedo University. He did post-graduate work in law, journalism and mass communication at the University of Navarra (Pamplona). He then received his doctorate in law from the University of Seville where he studied and taught for eleven years. In 1972, López-Escobar was invited to teach at the University of Navarra School of Journalism. He was the first director of the Department of Public Communication at that school, as well as a member of the steering committee for the Program for Latin American Graduates (PGLA) and of the University's doctoral studies commission. His special interests are in the fields of international communication, communication policy, and public opinion. He has been a trustee of the International Institute of Communications and a member of the strategic council of the European Institute for the Media. Recently, he was elected president of the World Association for Public Opinion Research. López-Escobar will study how the Internet is changing the professional mind and journalistic understanding of social, political and communication changes in a new global civil society.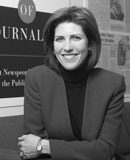 Margie Reedy has been a television journalist for 25 years. For the last seven years, she was the host of "NewsNight," an hour-long news interview program on New England Cable News. On "NewsNight," she led nightly debates among experts from a vast array of arenas, including politics, law, and academia on the topical stories that drive the news. Her goal was to probe beyond surface answers and to debate complex issues in a logical and meaningful way. She has been awarded the Scripps Howard Foundation National Journalism Award, the Associated Press Regional Award for Best Public Affairs Program, and the Radio and Television News Director's Association Award for Public Affairs. Reedy began her career as a reporter and weekend anchor at KVUE-TV in Austin, Texas while a college senior. Later as an anchor and reporter at WDIV in Detroit, Michigan and at WHDH in Boston, she was responsible for anchoring evening broadcasts and special programming, reporting and producing stories in the field, broadcasting live coverage of major events and breaking news, and assisting in the writing and editing of the nightly news program. At the Shorenstein Center, she is producing a documentary on cable news coverage of the Iraq war and the competition among the cable networks and whether it's driving them to adopt an ideological voice to gain viewers. Margie also taught a study group focusing on how the media works and how to work in the media.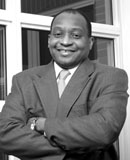 Terence Samuel covers Congress for U.S. News & World Report. Before joining the magazine, Samuel was, for three years, a Washington correspondent for the St. Louis Post-Dispatch, where he wrote on a wide range of topics, including congressional politics, urban policy and development, welfare, race and affirmative action. Previously, Samuel spent a decade at the Philadelphia Inquirer, including four years as a New York-based national correspondent. He covered the Oklahoma City bombing, the explosion of TWA Flight 800 and state and national politics in New York. He returned to Philadelphia in 1996 as the newspaper's Banking Correspondent. Samuel began his journalistic career in 1984 at the Roanoke Times & World News, where at various times he covered courts, police, schools and business. He received his B.A. from the City College of New York, where he was editor-in-chief of the student newspaper, The Campus. His research project examined the political parity that defines the current national debate, whether it is an aid or a menace to our traditional notions of democracy and what changes can be made.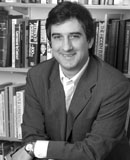 Michael Tomasky writes a column on politics for New York magazine, where he has been a contributing editor since 1995. Before that, he was a columnist for The Village Voice, and, before that, The New York Observer. He is the author of two books: Left for Dead (Free Press, 1996), about the intellectual collapse of the American left over the last 30 years; and Hillary's Turn (Free Press, 2001), about the 2000 New York Senate race. His work has appeared in a variety of other publications, including The New York Review of Books, Harper's Magazine, The New York Times Book Review, The Washington Post, GQ, Newsday, The Nation, The American Prospect, Dissent and various others. He has made numerous appearances on national television (the Today Show, CNN, Fox, MSNBC C-SPAN, etc.) and on radio. He was born in Morgantown, West Virginia. He received his bachelor's degree in journalism from West Virginia University in 1982 and received his master's degree in political theory from New York University in 1986. Tomasky examined the intensity of partisanship of some of the nation's leading editorial pages. Paper PDF