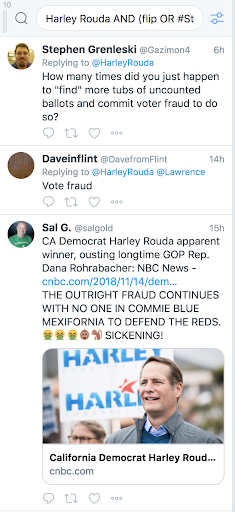 Much of the election-related online disinformation we've monitored since the midterms has attacked specific candidates or election officials and promoted groundless claims of fraud in ways that may further weaken public trust in the electoral process itself. Tactics identified by the Information Disorder Lab include unfounded accusations of vote-stealing, machine tampering, finding votes, unspecified fraud and other challenges to the integrity of the balloting, especially in states with close races.
While false or misleading allegations in close races are hardly new, they become particularly dangerous in a climate where social media users are already polarized, suspicious and angry, and thus more susceptible to manipulative claims. On some issues in the days after the midterm voting, traffic for online mis- and disinformation appeared to exceed and outlast that of the debunks and clarifying posts.
As Democrats won a steady stream of initially too-close-to-call U.S. House and Senate races during the following week, social media stepped up accusations that Democrats had committed fraud to win. Right-wing publications including Gateway Pundit said Democrats had somehow "snatched" numerous seats where GOP candidates had been leading on election night. This narrative emerged in a context of multiple election-driven tweets from President Trump and his son, Donald Trump Jr.
Florida
Once again, Florida was the central arena for electoral wrangling, with extremely close races mired in hard-fought recounts. Social media whipped up conspiracies and personalized the conflicts.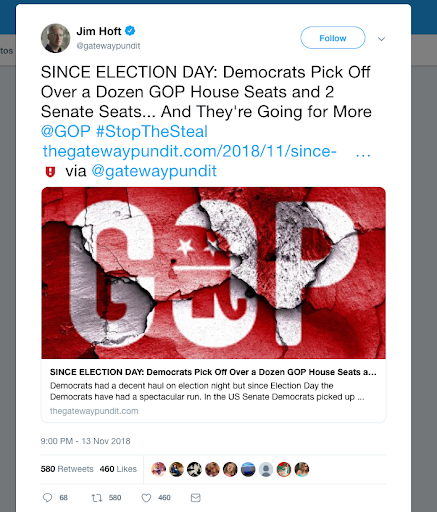 The accusations surfaced in Florida almost as soon as the U.S. Senate and gubernatorial races proved too close to call on election night. A week later, with machine recounts underway, online groups including r/The_Donald on Reddit kept alive echo-chamber election conversations about falsified ballots, and impending civil war.
– The stopthestealflorida.org website was launched on Nov. 10 by a group including Jonathan Lockwood, a conservative activist once described by the Denver Post as "flat-out deranged." The #stopthesteal hashtag, initially used by journalist Greg Palast to combat alleged voter suppression initiatives by Republicans in several states, was commandeered in Florida, Georgia and elsewhere by those claiming fraud by Democrats. (The controversial stopthesteal.org website, created in 2016, purported to foster voter integrity and fight fraud at the polls but was accused of harassing black voters in faux exit polls that year. The site now redirects to the stonecoldtruth.com site of political strategist Roger Stone.)
– Florida's Broward County was the epicenter of disinformation: County Election Supervisor Brenda Snipes, an elected Democrat, became the target of a deluge of memes accusing her of fraud (many riffed on a judge's finding in 2016 that she signed off prematurely on the destruction of ballots; she said it was an inadvertent staff error). The most prominent accusers, including GOP Gov. (and Senate candidate) Rick Scott, offered no hard evidence of wrongdoing. Social media users doxed Snipes and tarred her with misleading, sometimes racist memes that multiplied as the razor-thin vote margin kept attention focused on the county. Republican Sen. Marco Rubio tweeted: "Incompetent law breaking election officials lead to chance for lawyers to steal an election" (7,926 retweets).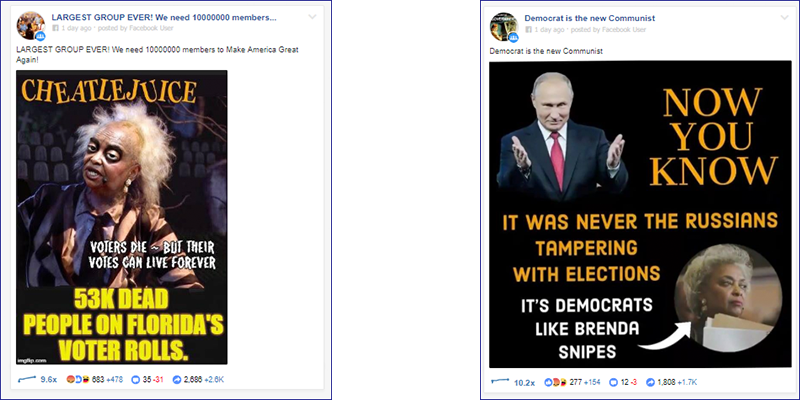 – Facebook users posted multiple videos showing confusion and shouting among groups of people at polling booths and alleging election fraud, fueling a sense of suspicion but without any specific evidence. In this video, the text states "voter fraud proof ballot tags found under truck" and the text in the post says "smoking gun evidence of voter fraud," but there's no serious explanation. It has 10.1K shares and 128K views. Four other similar videos were posted on the same Facebook page.
– Alleged voting by undocumented immigrants was a constant theme that magnified drastically in close races; this Daily Caller article had 109,000 interactions on Facebook and Twitter. Especially misleading: conservative sites heavily recirculated a 2012 NBC story that 200,000 voters in Florida might be illegally registered non-citizens. Donald Trump Jr. was among those who tweeted about it (see image of the tweet's spread, below). NBC updated the story to emphasize that just 85 people were removed from the rolls that year.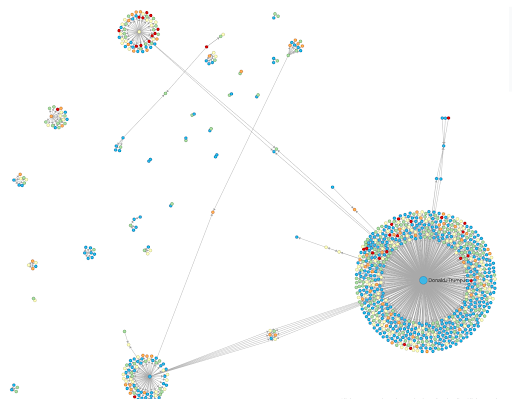 – Rental trucks and cars allegedly transporting ballots illegally in the dark of night produced numerous digital outcries, sometimes reinforced by tweets from major political actors including Rubio. A former candidate, Tim Canova, reshared a  video originally posted to Facebook claiming ballots were moved in a rental truck (earning 58,000 retweets). No credible evidence emerged documenting wrongdoing on these alleged crimes. A Fox News article on Canova's video and other Florida fraud allegations drew 53,000 Facebook interactions, but a debunk by the local ABC affiliate in Jacksonville of the rental car video earned just 707 interactions.
– A Florida POLITICO reporter tweeted about a provisional ballot box left behind at a polling location, which received 13K retweets and 17K likes–but later had to walked back the statement. Election officials later said they were simply moving tables and other supplies, not ballots, in routine and lawful procedures. A similar account was also published in another news outlet, which received a total of 400,000 Facebook interactions and spread on Twitter.
Georgia
Georgia's tight gubernatorial race between GOP Secretary of State Brian Kemp and Democrat Stacey Abrams drifted closer toward a possible runoff, prompting both mis- and disinformation online; this ranged from seemingly innocent misinterpretations of cell-phone video footage at polling stations to apparently intentional manipulation of situations to allege wrongdoing.
– A narrative emerged on conservative media, without citing evidence, that Abrams had miraculously found thousands of votes that narrowed the race almost to within the recount range. One Twitter user earned 857 retweets for a post called Abrams' growing vote total a complete lie — and asking people to share it.
– Battles over the counting of provisional ballots fueled more fraud charges. A site called bigleaguepolitics.com used hyperbole: "BOMBSHELL: Fulton County Numbers Show Massive Duplicate Ballots, Rejected Ballots, Non-Citizens Trying To Vote." The article, with 16,500 shares on Facebook, itself cites county data showing that just three of the 3,722 provisional ballots were judged to have been cast by non-citizens; another 581 were rejected because the voters weren't registered and 972 were found to live outside the county. Casual or hyper-partisan readers would likely take away — and share — a more extreme interpretation than the data warrant.
– Some internet sites warned generally of looming fraud in Georgia: A Gateway Pundit article said: "Shocker: 1,282 out of 1,762 New Votes That Magically Appeared This Weekend in Georgia Went to Stacey Abrams." The article lamented: "They are going to steal the Georgia election too… And this will continue until the law steps in and shuts down this election fraud." The article earned 2,100 shares on Facebook and 2,800 retweets.
– Others warned that Abrams was violating campaign finance laws with an eye on the potential runoff ballot. The conservative Federalist Papers website wrote: "Stacey Abrams Caught Attempting Illegal Move To Steal Georgia Election." The article had 10,600 Facebook shares. In fact, the Abrams campaign had requested to book $250,000 in TV ads to promote her campaign for the runoff, but the station declined to take any political ads because the count hadn't been completed and no runoff had yet been formally declared.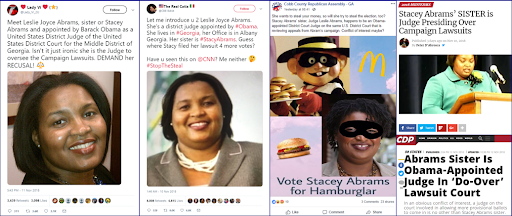 – A widely shared claim said Abrams' sister, Leslie Abrams, was presiding over the candidate's federal lawsuit to extend the period for counting absentee ballots. Abrams' sister is a U.S. District Court judge in Georgia and was assigned the case initially but was replaced the same day by another judge, who granted a request to extend the absentee ballots. Still, Facebook users repeated the false claim.
Arizona
Compared with the online posturing and disinformation in Florida and Georgia, the Arizona Senate race appeared to have fewer misinformative incidents even as Democrat Kyrsten Sinema overtook GOP Rep.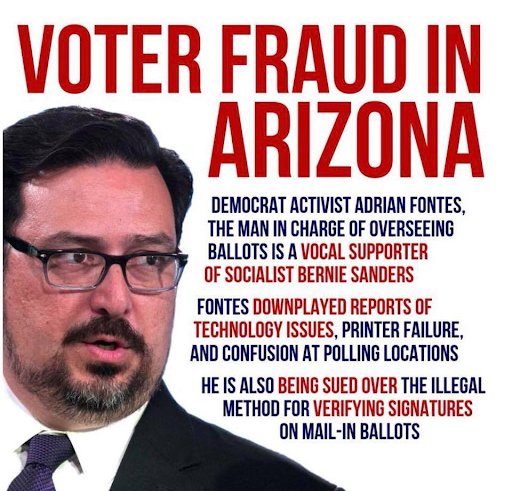 Martha McSally and was declared the winner. President Trump weighed in with a tweet alleging "electoral corruption" based on questions raised about ballot signatures (51,000 retweets). That fueled an online flurry of posts attacking Maricopa County Recorder Adrian Fontes for alleged fraud over certifying absentee ballot signatures. Many social media users ignored a court ruling in Fontes' favor that resulted in all Arizona counties adopting Maricopa County's approach to ballot signature verification.
The Senate race ended with a gesture of civility. Losing GOP candidate McSally earned kudos from mainstream media for her generous YouTube concession speech alongside her dog. (But it did prompt right-wing website the Daily Caller to chide mainstream media for not calling on Abrams to concede as well.
– The ID Lab Team