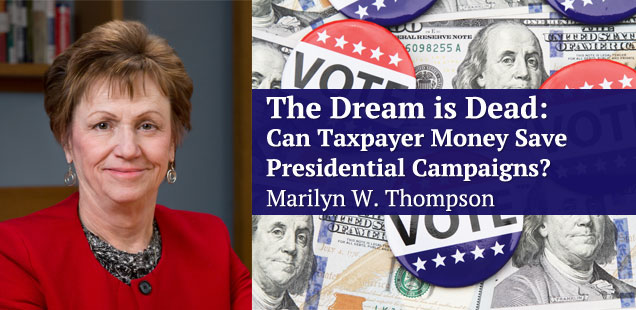 Our weekly roundup of news found at the intersection of media, politics, policy and technology, from the Shorenstein Center and from around the web.
This Week at the Shorenstein Center
The Dream is Dead: Can Taxpayer Money Save Presidential Campaigns? A new paper by Marilyn W. Thompson, Joan Shorenstein Fellow (spring 2016) and former deputy editor of POLITICO, chronicles the rise and fall of the Presidential Election Campaign Fund, and explores whether the fund could still provide a viable way to address citizen frustration with the campaign finance system.
News from Our Fellows
Why One Local Paper Launched an Online Section for Older Readers. Trudy Lieberman, spring 2001 fellow and press critic for Columbia Journalism Review, writes about the Pittsburgh Post-Gazette's efforts to focus on issues of concern to elderly readers.
Trump Killed the GOP, but There's a Silver Lining. Michael Traugott, spring 2009 fellow and professor emeritus of communication studies and political science at the University of Michigan, remarks on the demographic trends and voter preferences that will force the Republican Party to change or become irrelevant – and the possibilities for the emergence of a third party.
Profiting from Politics Proves Challenging for Startups. Michael Slaby, spring 2013 fellow and founder of Timshel, a company that provides candidates with software to reach supporters and raise money, is featured in an article about the challenges of building a business around elections.
From around the Web
Scoring the 2016 Candidates on Press Freedom, from Columbia Journalism Review.
Social Media and the Most Multilingual U.S. Election Ever, from Civic Hall.
Campaign Scorecard: Here's Our State-by-State Map of TV, Radio Ad Spending So Far, from Ad Age.
How We Built the Political Ad Archive, from MediaShift.
Have Female Journalists Ended the Boys-on-the-Bus Era of Campaign Reporting? From Vogue.
Facebook Is Making Some Big Changes to Trending Topics, Responding to Conservatives, from The Washington Post.
Facebook's Trending Topics Are None of the Senate's Business, from Slate.
News Use across Social Media Platforms 2016, from Pew Research Center.
We Need to Know the Algorithms the Government Uses to Make Important Decisions about Us, from The Conversation.
Ash Fellow Launches New Campaign Finance Data Tool, from the Ash Center for Democratic Governance and Innovation.
Is Rush Limbaugh in Trouble? From POLITICO.
Trump's Scorning of Data May Not Hurt Him, But It'll Hurt the GOP, from FiveThirtyEight.
Lights, Camera, Trump, from The New York Times.
Annotation Might Be the Future of Fact-Checking, from Poynter.
Sign up to receive Media and Politics Must Reads in your inbox each week. Also connect with us on Twitter and Facebook for more updates.