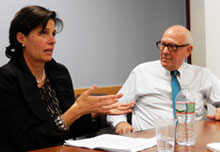 October 1, 2013 – Financial reporting is crucial to a fair and functioning democracy, said Laurie Hays, Senior Executive Editor for Beat Reporting at Bloomberg News. The challenge that financial reporters face, she said, is presenting complex economic issues in a way that large audiences can understand. Yet it is important because "the bottom line is…the bottom line," she said, and "if you don't understand money, you don't know how to write about power," she continued, emphasizing the importance of financial reporting to hold accountable those in the highest places of power.
Highlighting several stories recently published by Bloomberg, Hays argued that the stories they publish illustrate their commitment to transparency and transformation in the economic sector.
In 2011, Bloomberg reporters uncovered a story about secret loans from the Fed that gave billions of dollars to banks, all the while undisclosed to Congress. The story received a special citation at the 2012 Goldsmith Awards.
The 2011 story Consider the Koch Brothers revealed that a unit of Koch Industries "paid bribes to win contracts" in other countries, and "falsified data about emissions of benzyne, which is a known cause of cancer."
"The world needs financial journalists to uncover wrongdoing before it becomes a crisis," she said. While it's not always easy to foresee a catastrophe before it unfolds, Hays explained that at Bloomberg reporters work to flag crises "before they get out of control."
Hays noted that while "it's not that wealthy people are evil and that the pursuit of money is a bad thing, but for an economy like ours to work, there has to be fairness."
Article and photo by Janell Sims, Shorenstein Center.