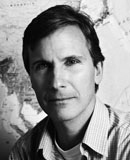 January 10, 2007 — The 2007 recipient of the Shorenstein Prize for Reporting on Asia is John Pomfret.
The prize honors an American journalist or author for his or her contribution to our understanding of the Far East. It is awarded each year by Stanford University's Walter H. Shorenstein Asia-Pacific Research Center and Harvard's Shorenstein Center.
Pomfret, now with the Washington Post, has covered numerous wars as a foreign correspondent. He is an expert on China and has spent many years reporting on the country. In the early 1980s Pomfret was a part of one of the first groups of American students to study in China. His book, Chinese Lessons: Five Classmates and the Story of the New China, chronicles his story and that of his classmates, who were to become powerful figures in Chinese business and government.
The day after the award, the Shorenstein Center was the site of a panel discussion, "China Bets on Its Future: Four Bets and the Future of the People's Republic of China." It featured Alex S. Jones of the Shorenstein Center; Suzanne Ogden, Professor of Political Science, Northeastern University; Research Associate, Fairbank Center for East Asian Research; John Pomfret, West Coast Correspondent and former Beijing bureau chief, the Washington Post; Daniel Sneider, the Walter H. Shorenstein Asia-Pacific Research Center; Anthony Saich, Daewoo Professor of International Affairs; director of the China Public Policy Program, Kennedy School of Government.
The event was co-sponsored with the Walter H. Shorenstein Asia-Pacific Research Center, Stanford University and moderated by Jones.