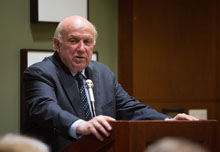 October 10, 2013 – The sixth annual Richard S. Salant Lecture on Freedom of the Press was delivered by Floyd Abrams, a member of the Executive Committee and Cahill Gordon & Reindel LLP's litigation practice group. Described by Senator Daniel Patrick Moynihan as "the most significant First Amendment lawyer of our age," Mr. Abrams has been named one of the "100 Most Influential Lawyers in America" by The National Law Journal (2013).
Read the full transcript of the Salant Lecture (PDF).
Floyd Abrams has a national trial and appellate practice and extensive experience in high-visibility matters, often involving First Amendment, securities litigation, intellectual property, public policy and regulatory issues. He has argued frequently in the Supreme Court in cases raising issues as diverse as the scope of the First Amendment, the interpretation of ERISA, the nature of broadcast regulation, the impact of copyright law and the continuing viability of the Miranda rule. Most recently, Floyd prevailed in his argument before the Supreme Court on behalf of Senator Mitch McConnell as amicus curiae, defending the rights of corporations and unions to speak publicly about politics and elections in Citizens United v. Federal Election Commission.
Mr. Abrams's clients have included The McGraw-Hill Companies in a large number of litigations around the country involving claims against its subsidiary, Standard & Poor's Financial Services LLC, The New York Times in the Pentagon Papers case and others, ABC, NBC, CBS, CNN, Time Magazine, Business Week, The Nation, Reader's Digest, Hearst, AIG, and others in trials, appeals and investigations.
He is the recipient of numerous awards, the namesake of Yale University's
Floyd Abrams Institute for Freedom of Expression, a frequent commentator on television, and the author of articles and reviews in The New York Times, The Washington Post, The Yale Law Journal, The Harvard Law Review, and elsewhere.
For fifteen years, Floyd Abrams was the William J. Brennan, Jr. Visiting Professor of First Amendment Law at the Columbia Graduate School of Journalism. He has, as well been a Visiting Lecturer at Yale Law School and Columbia Law School and he is author of Speaking Freely: Trials of the First Amendment, published by Viking Press (2005).