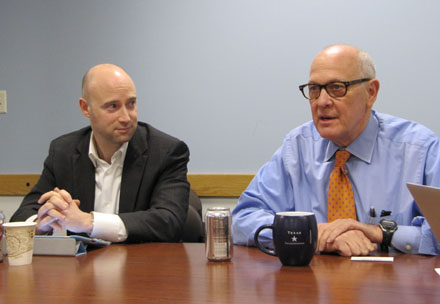 February 14, 2012 — The Tea Party movement shares "striking similarities" to the online progressive movement of 2004–2005, said Matt Bai, chief political correspondent for The New York Times Magazine. Bai spoke to the Shorenstein Center about how these two movements illustrate a decentralization in American politics.
Technology has played a substantial role in both the Tea Party and progressive movement on the left, Bai observed. He referred to both movements as "flash," because they "come together very quickly based around a very powerful emotion of the moment." They are "virtual, Internet-based movements…they wouldn't exist but for the proliferation of broadband media." Part of their "ephemeral" quality, he said, is because of their "oppositional" nature: "Flash movements are not centered on any constructive vision of how to reform government."
"Outsiderness has become a critical part of our political culture," he said, and "technology has afforded newcomers to the process and genuine outsiders some very real influence over the political debate and the fortunes of both parties." A "devaluing of expertise" also characterizes today's culture, argued Bai, and technology has contributed to that phenomenon as well. By using the Internet, he said, "we have generally broken down the walls of information and knowledge to the point where people either disregard or often have contempt for…formal expertise."
A "powerful force underlying both movements," Bai pointed out, is that they are "leaderless, decentralized movements that are built less on any central sense of identity than on a sense of community, and community is vitally important to movements on both the left and the right."
By Janell Sims, Shorenstein Center.
Photos by Heather McKinnon, Shorenstein Center.