Information Disorder Update: October 26, 2018
Supporters of a private militia are spreading misinformation on social media about the Central American migrant caravan. One baseless claim asserts that "42,000 immigrants" intend to join the caravan. This warning appears to have reached tens of thousands of users on social media. Related posts on Twitter gained thousands of retweets; an article conveying the same claim was shared more than 7K times on Facebook; and a YouTube video peddling the claim received more than 4.5K views.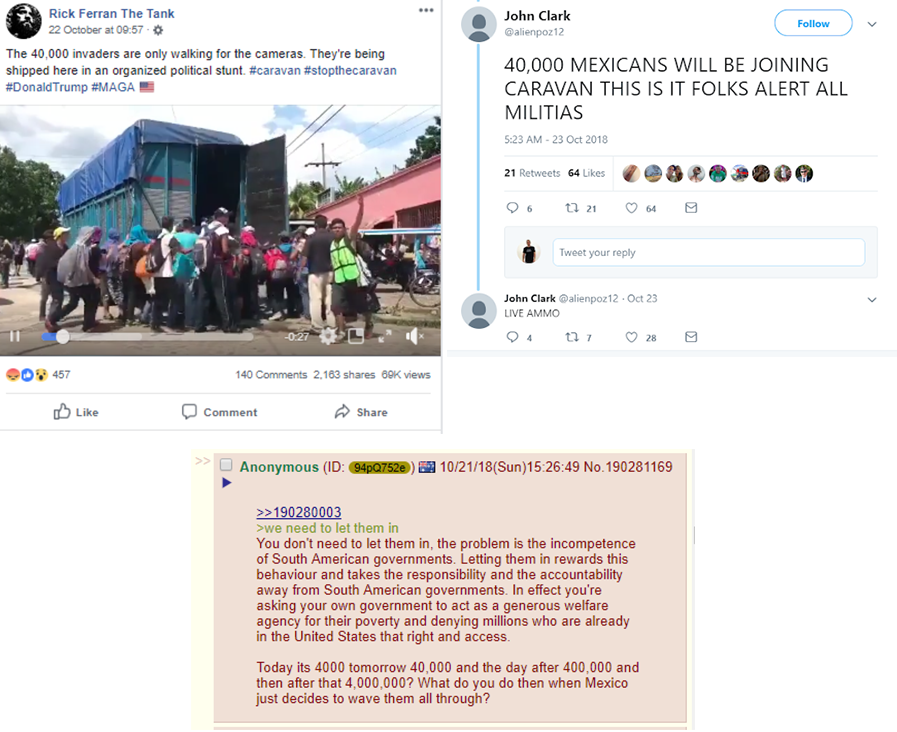 The claim that 42,000 immigrants would join the caravan was originally spread in private Facebook messages (see screenshot) by a Facebook user, who said he got the information from an unidentified group leader.
The rounded number of 40,000 has also been shared widely. However, group leader Terry Kelly, speaking to the IDLab by telephone, denied knowledge of any such number.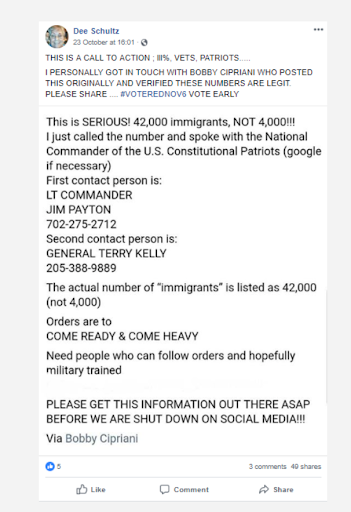 The militia group, which calls itself the United Constitutional Patriots and is based in New Mexico, claims that it has been positioned on the border since Oct. 19 with three other militias. Through social media, the group is attempting to recruit more people to come to the border or donate to their cause. An hour-long livestream from Facebook user and militia member Greg Clark received 1,100 shares and 39K views. In it he claims that the militia was "asked by the people in the government" to go to the border.
The United Constitutional Patriots Radio YouTube channel published four videos in the past week, about 45 minutes each. In one video, a group member named Jim Horton Jr. makes a number of claims without citing evidence, including that "Soros just paid $500 million [to support the caravan]. We have information on this" and that the caravan is "going to split up into three groups and head in three different directions."
These statements have no known basis and are usually coupled with pleas to donate money to the cause or join militia members at the border. User comments on such videos sometimes indicate confusion about the facts but express a willingness to join them (see below).

Militia member Greg Clark also posted an image purporting to show bikers joining them from St. Louis. It received more than 700 shares, but in reality the same photo has circulated on the internet since at least June 2014 (see below). In a video, Horton said: "We have 2,000 bikers from what we were told, I have seen pictures, coming to the border from the Missouri area."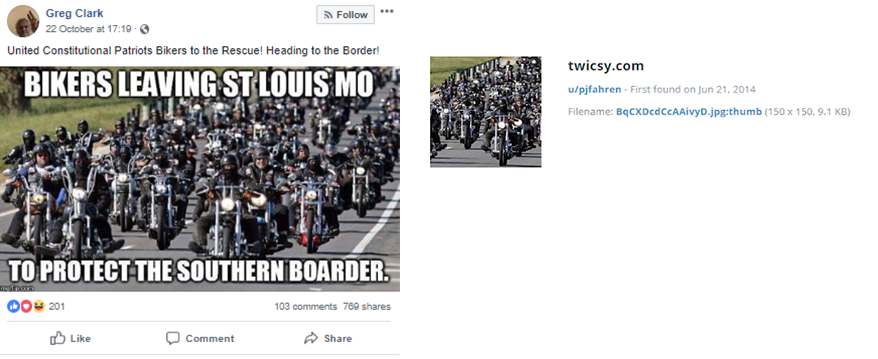 The militia group is active on the alternative social media platform Discord, where group administrators claim that people have joined the cause and are heading toward the border.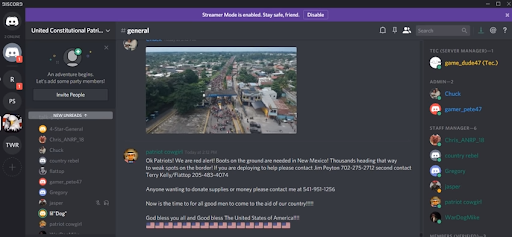 The threat of thousands more people in Central America joining the march circulates in a climate of fear-mongering about the caravan by other social media actors. For example, several memes recently spread on social media urging President Trump to "call on" unregulated militias, including U.S. Constitutional Patriots. One meme received more than 8K shares. Other memes offer misleading statistics to justify military intervention at the border. This meme has 33K shares on Facebook. Its basis may be a recycled poll from April that found 60% of Trump supporters strongly approve of deploying the National Guard to the border.
Misinformation around the actual deployment of soldiers has been rampant. A PatrioticExpress.com article suggested Defense Secretary James Mattis was sending 4,000 troops to the border. It cited an AP article posted on Military.com that ran in April 2018, when Mattis did authorize 4,000 National Guard troops to be deployed to the border over a separate caravan. The article was shared more than 9,000 times on Facebook. A separate false rumor has spread on social media that the 82nd Airborne Division is being deployed, which Snopes has debunked. NPR reported that Mattis is expected to sign an order sending at least 800 troops to the border, including military police and engineers.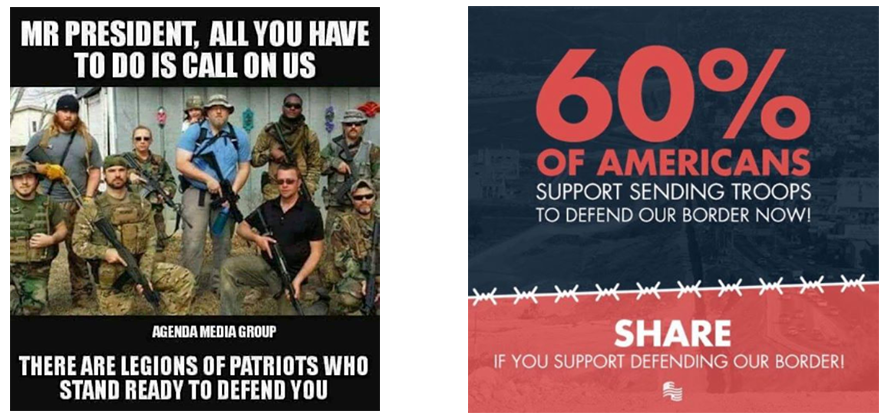 – The ID Lab Team