Striving to Build An Antiracist Education Community
Tuesday, April 23, 2019
12:00 pm -
1:00 pm
EDT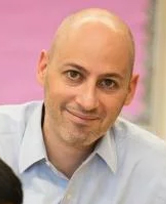 Jeff Ginsburg, executive director of the East Harlem Tutorial program, in conversation with Khalil Muhammad, professor of history, race and public policy at the Harvard Kennedy School and the director of the Initiative for Institutional Anti-Racism and Accountability at the Shorenstein Center on Media, Politics and Public Policy.
Jeff Ginsburg joined the East Harlem Tutorial Program (EHTP) as Executive Director in 2008. The EHTP network includes East Harlem Scholars Academies (a network of public charter schools), East Harlem Teaching Residency (in partnership with Hunter College School of Education and AmeriCorps), and Out-of-School Time (OST) Programs that serve traditional public school students. EHTP is on track to serve 25% of East Harlem students by 2025, preparing them with the academic skills, strength of character, and emotional well-being to excel in college, lead in their communities, and realize their best possible selves.
Jeff holds a bachelor's degree from Trinity College in Hartford, and a master's degree in public policy from Harvard's Kennedy School of Government, where he studied education policy and nonprofit management while serving as a Founding Chair of the Dean's Committee on Public Service. He is a member of the New York City Economic Development Corporation Advisory Board. In 2016, Jeff was named to Crain's 40 under 40. He is married to Erin K. Blakeley, a writer and journalist, with whom he has three children, Liam, Cathleen and Conor.