The White Woman Voter
Tuesday, April 16, 2019
12:00 pm -
1:00 pm
EDT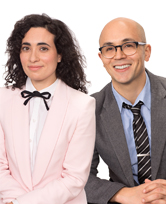 With Koa Beck and Adam Serwer, Spring 2019 Joan Shorenstein Fellows.
Koa Beck is the former editor-in-chief of Jezebel and the co-host of "The #MeToo Memos" on WNYC's The Takeaway. She was previously the executive editor of Vogue.com and senior features editor at MarieClaire.com. Her literary criticism and reporting on gender, LGBTQ rights, culture, and race have appeared in a wide variety of print and online outlets. Her fiction writing has been nominated for the Pushcart Prize, and she serves on the board of directors of Nat.Brut, an art and literary magazine. While at the Shorenstein Center, Beck will write a paper on "How Women's Media Operates as a Vehicle for White Feminism."
Adam Serwer is a Staff Writer at The Atlantic, covering politics. He has previously worked for BuzzFeed News, MSNBC, Mother Jones and The American Prospect. While at the Shorenstein Center, Serwer will conduct research into the historical role that black voters have played in defending and advancing the foundational American notion that all people are created equal—most especially when others have abandoned it.