Goldsmith Awards 2019 Panel Discussion
Tuesday, March 12, 2019
3:30 pm -
5:00 pm
EDT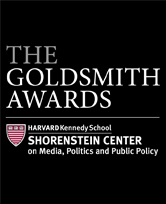 A panel discussion with the finalists for the Goldsmith Prize for Investigative Reporting.
Finalists include: Alabama Media Group; The Dallas Morning News; The Investigative Reporting Program (IRP) at UC Berkeley's Graduate School of Journalism with FRONTLINE; The Philadelphia Inquirer; ProPublica; The South Bend Tribune with ProPublica; and The Wall Street Journal
The winner will be announced at the Goldsmith Awards Ceremony on March 12th at 6pm. Learn more.