Crash Course on Tech Work in Government: What *else* do you need to know?
Thursday, July 1, 2021
<br />
2:30 pm
–
4:00 pm
EDT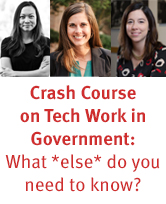 Joining government brings incredible opportunities to solve hard problems, fix under-resourced systems, and help people at a scale no other sector can. It's incredibly rewarding work, but also incredibly challenging. The landscape is different. The rules are, too. As new waves of technologists raise their hands to consider government service, we'll unpack some of those differences and explain how these rules are actually superpowers based on our experiences joining teams at federal agencies as well as the White House where we led policy, projects, and teams focused on using data, design, and technology to improve service delivery. We'll also touch on how these teams (and others in gov) hire. In this 90-minute webinar, gov tech veterans
Erie Meyer
,
Kathy Pham
, and
Cori Zarek
will fill you in on the under-the-radar topics to look out for as a new wave of techies join government. Their combined experiences include the United States Digital Service, Consumer Financial Protection Bureau, Federal Trade Commission, Office of Science Technology Policy, National Archives, and the private sector. This event is co-sponsored by the
Georgetown University Beeck Center for Social Impact + Innovation
and the Harvard Kennedy School Shorenstein Center for Media, Politics and Public Policy.
---
Registration for this event has closed. You can find a summary and recording of the event here.