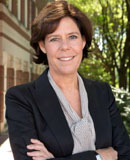 Joan Shorenstein Fellow, Fall 2013
Formerly, Thomson Reuters
Read the full paper (PDF).
Excerpt:
The 2012 campaign cycle was "the greatest windfall" for political operatives in American history, Democratic consultant Hank Sheinkopf has said—a $6 billion spending frenzy unmatched in U.S. politics. [i]
So who pocketed all that cash? Most of it went for ads on TV, radio and the Internet, of course; media buys are the biggest expense in any election. But Kantar Media's Campaign Media Analysis Group, which tracks broadcast spending, puts the 2012 total for all media at roughly $5 billion, which left another one billion at the disposal of the "campaign industrial complex"—that standing army of consultants, pollsters, mailers, data gurus and field organizers. [ii]
Did this torrent of money—raised and spent under the new rules of the Supreme Court's Citizens United decision—make anyone rich? Did it create new financial incentives that changed the way the game is played or altered the political discourse? Has it, as some argue, bankrolled the polarization of America?
These legitimate questions are difficult to answer under current disclosure laws. And the U.S. press has been oddly complacent about that fact, continuing a tradition that puts the financial gains of political operatives—who are great sources and valued customers of the big media companies—off limits. The presumption seems to be that these men and women are motivated by ideology and personal loyalty, their payoff, if any, just a happy coincidence and a private matter.
But this attitude is woefully out of date now that what Bloomberg Businessweek called "a Cayman Islands–style web of nonprofit front groups and shell companies" is being used not only to shield donors but also to obscure the self-enrichment of the political class. [iii] When a consultant can earn millions of dollars in a single election cycle by moving nimbly between the campaigns, the independent spending groups and the vendors that get their business, it's time to revive the Watergate-era mantra, "follow the money."
The new era of campaign finance is a "real crisis for American journalism," Washington Post associate editor Robert Kaiser told an audience at Harvard Law School in September, 2013, "and we have not risen to the occasion."
---
[ii] Wilner, E. personal communication, December 5, 2013.