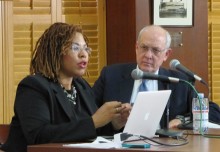 November 30, 2010 — At a Shorenstein Center event, Cheryl Contee, partner at Fission Strategy and co-founder of the political blog Jack & Jill Politics, explored the "Rise of African-American Online Political Influentials." Contee said that she sees herself not as a figure of the media or of politics, but as "a concerned citizen working toward positive change."
Watch the video on C-SPAN.
Contee launched Jack & Jill Politics in 2006 as a response to what she described as the "digital divide" between African Americans and the white audiences that are most often targeted by new media. A new generation comprised of "children of the Civil Rights era coming of age with new confidence," Contee said, have "highly trained professional skills" and are "infused with passion from their parents" for progressive politics. This "new voice online," Contee explained, is made up of a "group of political junkies" that are "cross cultural and collaborative," but who also have a great deal of "irreverence" and speak out against traditional barriers.
When the blog first launched, Contee and her co-founder Baratunde Thurston used the pseudonyms Jill Tubman and Jack Turner. The pseudonyms were "driven by an element of fear" for protecting their reputations and careers, Contee explained. "No one had done this before," she said, so the stakes were high. Since the 2008 election, Contee herself along with many other bloggers have "come out" with their true identities and now write and comment freely. Her hope is that the blog serves as "a vehicle to motivate people to activism" and "turn the national discourse around."
Looking forward, Contee sees a "Harlem Renaissance 2.0" that, like the historical movement, will "not only change African-American society but change U.S. society for the good." She is encouraged by the "emergence of interesting and progressive African Americans," and "is keen to educate audiences on topics like net neutrality, racial profiling and location-based services." A large percentage of her readership is non-African American, and Contee sees the "rich dynamism" of cross-cultural collaboration. The benefits of new media tools, Contee concluded, is that they "provide social advantages" for African Americans that make up for previous social disadvantages. New media is a "mechanism people are using to leap over barriers that have kept out people in the past," she said.
This article was written by Janell Sims and the photos taken by Leighton Walter Kille, both of the Shorenstein Center.