News and Events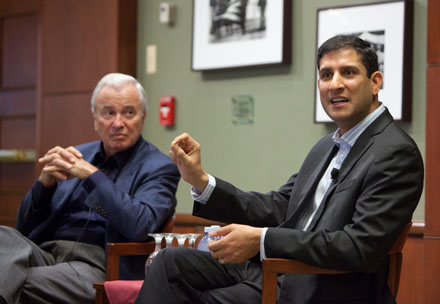 Throughout the academic year the Shorenstein Center presents lectures and discussions in a variety of formats — conferences, forums, symposia, lectures, discussions and informal gatherings. Our highly popular Speaker Series highlights the Center's ability to attract interesting speakers who share their expertise and experience with Kennedy School students throughout the school year.
Event topics have included press coverage of campaigns and politics; international developments; women, media and politics;  and digital technology. Many events take place at the Shorenstein Center, in the Institute of Politics, or in the Harvard Kennedy School's Forum, but the Center has also hosts events in Washington, D.C., Denver, Chicago, New York City, and other major cities.
View our full calendar of events.
Find recaps, photos and podcasts of recent events in our events archive.
Podcasts also available via Soundcloud and iTunes.

Spring 2013 Newsletter
The most recent issue, published in April 2013, reported on the Goldsmith Awards, a discussion with Chris Hughes, the Spring Speaker Series, Spring Fellows, Journalist's Resource, and more.
Read more »
Events Archive
---