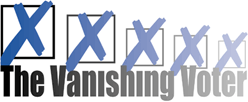 The Vanishing Voter Project was based at the Shorenstein Center during the 2000 and 2004 campaigns. Through research, the project tried to understand the factors that affect public involvement and to use this information to propose constructive changes in the election process.
In 2000, the Vanishing Voter Project centered on weekly national surveys designed to assess the public's election involvement at various stages in the campaign. Those surveys were the basis for reports (see below) as well as for The Vanishing Voter, which was published in 2002.
In 2004, there were signs of renewed voter interest. Turnout was up in the presidential primaries, as was attention to campaign news.
The Vanishing Voter Project was funded by the Pew Charitable Trusts
Reports
The Vanishing Voter Project released five reports in 2000.
Press Releases
Beginning on March 11, 2004, the Vanishing Voter project released seven press releases. The final one was released on February 2, 2005.