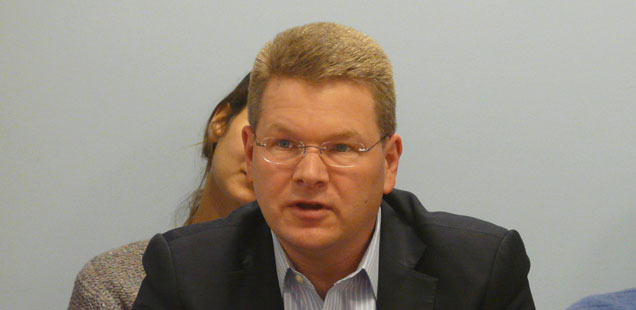 Tuesday, February 16, 2016,
12:00-1:00pm
Taubman 275
February 16, 2016 — Sam Feist, who leads the production of CNN's campaign coverage and debates as Washington bureau chief and senior vice president, discussed the network's coverage of the 2016 election.
Feist opened his talk with what he called a "defense of the mainstream media." Even though the public often holds an unfavorable opinion of the media, "journalists…do their job with a remarkable level of integrity," he said. He described the questions he hears in the newsroom on an hourly basis: "Are we being fair? Are we representing both sides? Are we representing all sides? Are we 100 percent sure that we're right? Are our viewers and our readers going to learn something from this story?"
Feist said he sees CNN's role in the election as simple: To make sure voters have the information they need to make an informed decision. They do this by providing background on candidates, reporting on what candidates said, fact-checking those statements, and asking tough questions, he said. They also give the candidates an opportunity to connect with voters by televising campaign events and speeches.
"There are a lot of people who think that journalism is broken, that we don't do our jobs. And I would argue that we're actually doing our jobs as well or better than we've ever done them," said Feist. "I don't think there's a lot about the candidates that you don't know. And the reason that you know what you know is because of the political journalists who are working day in and day out covering them."
With such a large field of candidates to cover, CNN hired 45 new staffers at the beginning of the campaign season, assigning a reporter to each candidate, and to each of the early primary states to report on candidates' appearances and reactions from local voters, said Feist.
The high volume of coverage has been met by strong audience interest in the campaign, the likes of which Feist has not seen before in the seven elections he has covered. "We've never had more people watching our debates," he said. "There's something happening with our politics…perhaps it's dissatisfaction with Washington, it's an interest in the personalities running for president, it's all of those things, but it is a remarkable year."
Responding to a question about whether the media has fueled Trump's rise by televising his extreme positions, Feist said that for all candidates, "our job is to put as much information out there as we possibly can and let the voters decide what they want to do with it."
"Clearly Donald Trump is striking a chord with some Americans – I don't think that they're necessarily ill-informed," he continued. "We have to at least accept the possibility that the positions he is taking are positions that quite a number of Americans may agree with. Nevertheless, our position doesn't change."
The amount of airtime given to Trump is also a factor of his willingness to give interviews to the press on short notice – something frontrunner candidates often avoid.  "We call, he says yes…We call other candidates, sometimes they say yes, sometimes they say no," said Feist.
Feist also discussed the composition of CNN's panelists, the selection of candidates for the early Republican debates, editorial decisions on covering candidate rallies, and fact-checking. Listen to the full audio recording above.
Article and photo by Nilagia McCoy of the Shorenstein Center.