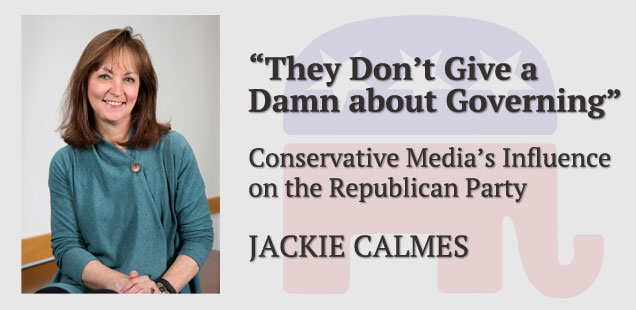 Our weekly roundup of news found at the intersection of media, politics, policy and technology, from the Shorenstein Center and from around the web.
News from Our Faculty & Fellows
Conservative Media's Influence on the Republican Party. A new paper by Jackie Calmes, Joan Shorenstein Fellow (Spring 2015) and national correspondent for The New York Times, argues that today's conservative media – from broadcast to social media – pushes the party's agenda to the far right, at the expense of its ability to govern and pick presidential nominees.
Why Can't Washington Build a Website? Nick Sinai, HKS adjunct lecturer and Walter Shorenstein Fellow (Spring 2015) and Matt Lira, IOP fellow, suggest solutions for smart, digital government that can provide better services to citizens, in Politico.
Donald Trump is a Superhero – But Not in a Good Way. Neal Gabler, Joan Shorenstein Fellow (Fall 2011), author and film critic, writes about the conflation of entertainment and politics on Reuter's Great Debate blog.
Why the Internet Hasn't Transformed Politics (Yet). Micah L. Sifry, former Visiting Murrow Lecturer of the Practice of Press and Public Policy, discusses the current uses of technology in politics, and why new tools may still have the potential to "democratize democracy." From WGBH's Innovation Hub.
What Happens "Before the Oath?" Martha Joynt Kumar, Joan Shorenstein Fellow (Fall 1998) and professor of political science at Towson University joined Chuck Todd on Meet the Press to discuss the often complicated transition of power from one president to the next, as detailed in her new book, Before the Oath: How George W. Bush and Barack Obama Managed a Transfer of Power.
The Perversion of the American Presidency. Fred Wertheimer, Joan Shorenstein Fellow (Fall 1996) and president of Democracy 21, writes in Huffington Post about efforts to reform the role of money in politics, including two bills pending in Congress.
This Week at the Shorenstein Center
Current Political Science Research Relevant to Election 2016, from Journalist's Resource.
From around the Web
Facebook Expands in Politics, and Campaigns Find Much to Like, from The New York Times.
The Television Election: Despite All the Hype about Tools Like Snapchat and Meerkat, the 2016 Campaign Will Be Dominated by a Technology That's Been around for Decades: TV. From Politico.
How Social Sharing Varies by News Topic and Social Platform, from American Press Institute.
How Politico Crafts Branded Content with a Political Agenda, from Digiday.
What's at Risk with Digital Town Halls? From Columbia Journalism Review.
After Arab Spring, Journalism Briefly Flowered and Then Withered, from The Washington Post.
The Project Unearthing "Dark Money" in U.S. Politics, from The Daily Dot.
How Newspapers Reveal Political Power. New research based on a dataset of nearly 50 million pages from 2,700 local U.S. newspapers finds that "the relative coverage of political actors and of political offices is a strong indicator of political power." From Pamela Ban of Harvard University, Alexander Fouirnaies of Nuffield College and Oxford University, Andrew B. Hall of Stanford University, and James M. Snyder, Jr. of Harvard University and NBER.
Eight Decades of Debate: A Brief History of Presidential Primary Clashes, from the University of Virginia Center for Politics.
Former White House Communications Director on Similarities, Differences of Covering Sports and Politics, from Poynter.
Sign up to receive Media and Politics Must Reads in your inbox each week. Also connect with us on Twitter and Facebook for more updates.