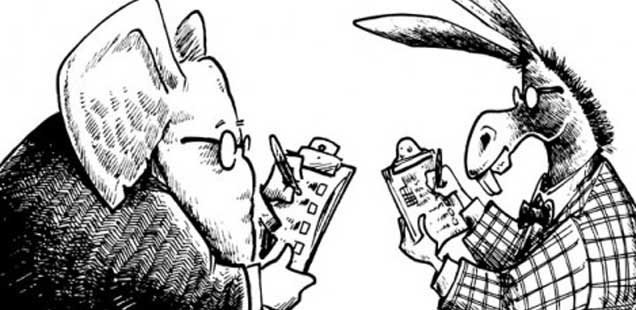 Our weekly roundup of news found at the intersection of media, politics, policy and technology, from the Shorenstein Center and from around the web.
This Week at the Shorenstein Center
Although the 2016 presidential election is still more than a year away, media coverage of the candidates is already awash in poll numbers. Journalist's Resource provides a helpful guide to polling fundamentals and concepts for journalists.
News from Our Fellows
How Big Business is Lining Up with Hillary. Zachary Karabell, former Shorenstein Fellow (Fall 1997) and contributing editor at Politico, writes about Hillary Clinton's efforts to win over both the middle class and business interests.
A Politico Investigation Could Change the Way You Look at Food Safety. Trudy Lieberman, Joan Shorenstein Fellow (Spring 2001), health journalist, and press critic for Columbia Journalism Review, writes about the making of a story that uncovered massive failings in the implementation of the 2010 Food Safety Modernization Act.
Diane McWhorter Wins National Endowment for the Humanities Grant. Diane McWhorter, A.M. Rosenthal Writer-in-Residence at the Shorenstein Center in 2014 and Pulitzer Prize-winning author, has won a Public Scholar grant from the NEH to write a nonfiction book about the intersection of the space race and the civil-rights movement in Huntsville, Alabama.
From around the Web
There's No Perfect Way to Sort the Candidates for a Primary Debate, from FiveThirtyEight.
Debate Line-Up Illustrates Power of Fox News in GOP Campaign, from the Associated Press.
You Can Post Debate Questions on Facebook, but Fox News Will Decide What Gets Asked, from The Conversation.
Tonight's Second-Screen Debate, on Your Phone, from Politico.
Why Is BuzzFeed Producing Viral Videos with 2016 Republican Candidates? From International Business Times.
Media Outlets Debate Whether Increased Access to Kochs Is Worth All the Strings Attached, from Huffington Post.
Obtaining Government Officials' Business Emails Should Be Easier, from Poynter.
How "Indecision 2000" Changed Everything for Jon Stewart and "The Daily Show," from The Washington Post.
The Rich/Poor Divide Extends to Local News, a New Report Suggests, from Nieman Lab.
How Much Is Web Traffic Changing the News You Read? From the Wharton School of the University of Pennsylvania.
Sign up to receive Media and Politics Must Reads in your inbox each week. Also connect with us on Twitter and Facebook for more updates.
Image credit: Keith Bishop