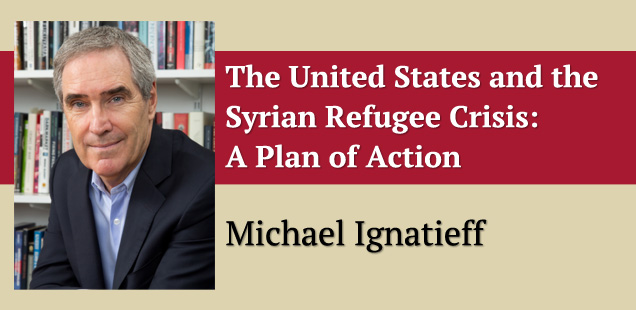 Our weekly roundup of news found at the intersection of media, politics, policy and technology, from the Shorenstein Center and from around the web.
This Week at the Shorenstein Center
The United States and the Syrian Refugee Crisis: A Plan of Action. A new white paper by Michael Ignatieff, Edward R. Murrow Professor of Press, Politics and Public Policy at the Harvard Kennedy School's Shorenstein Center, and Harvard students, argues that it is in America's national interest to help Europe manage and overcome the refugee crisis by lending strong political support to its major European allies, particularly Germany, and by re-asserting its leadership role in refugee resettlement and integration. This paper proposes a plan of action that renews American leadership and supports Europe while strengthening the national security of the United States.
News from Our Faculty & Fellows
Are We All Trump Enablers? Thomas Patterson, Shorenstein Center interim director, discusses the media's shortcomings in covering Donald Trump on WGBH's "Greater Boston."
Trump and the Politics of Paranoia. A BBC Radio 4 documentary by Michael Goldfarb, spring 1999 fellow, features an interview with Richard Parker, HKS lecturer in public policy affiliated with the Shorenstein Center. The documentary places Trump's use of rhetoric that encourages fear within a larger history of paranoia in American political discourse.
Press Freedom Threatened by Politics, Violence and Technology. Nazila Fathi, spring 2012 fellow and former Tehran bureau chief for The New York Times, participates in a discussion on "The Takeaway" about threats to global press freedom, and how censorship is changing in the digital age.
Michele Norris Discusses "The Race Card Project." Spring 2015 fellow and former host of NPR's "All Things Considered" discusses her initiative aimed at fostering dialogue about race on Vermont Public Radio.
Is There Anybody out There? Yavuz Baydar, fall 2014 fellow and Turkish journalist, chronicles an incident representative of the "Kafkaesque landscape" that journalists increasingly find themselves in in Turkey, as the government infringes upon press freedom.
From around the Web
How Iowa Media Covers the Iowa Caucuses, from Poynter.
Bernie Sanders is Running a Nine-Day Snapchat Ad Campaign in Iowa, from The Wall Street Journal.
Dear Media: Here Are Some Tips for Covering Donald Trump and the GOP Campaign, from The Conversation.
Are DC Bureaus Worth Saving? From Columbia Journalism Review.
Political TV Ad Archive Launches, from Internet Archive.
How Bloomberg Covers Bloomberg, from Politico.
Tweets and GIFs: A Gateway to Political Discourse, from The Daily Pennsylvanian.
The One Word That Could Weaken Florida's Public Records Laws, from Columbia Journalism Review.
Social Media Made the Arab Spring, but Couldn't Save It, from Wired.
Knight News Challenge Awards $3.2 Million for 17 Ideas That Make Data Work for Communities, from the Knight Foundation.
Sign up to receive Media and Politics Must Reads in your inbox each week. Also connect with us on Twitter and Facebook for more updates.