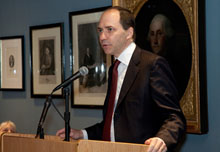 October 28, 2010 — In reflecting on today's media world, 2010 Salant Lecturer Marcus Brauchli looked back to the roots of the organization he leads, The Washington Post. Founded in 1877, it was just one in a universe of left- and right-leaning publications. Now, Brauchli said, "we are once again on a frontier."
As executive editor of the Post, Brauchli is directing the integration of its print and online newsrooms. "All of us today are part of a digital ecosystem," he said, noting that today stories can originate from a blog or sites such as Wikileaks as easily as they can from mainstream news organizations. "There's a lot not to love about new media," Brauchli observed ruefully, but insisted that the "oceans of information" on the Internet favor "islands of clarity" such as the Post.
Before joining The Post, Mr. Brauchli was managing editor of The Wall Street Journal, with responsibility for its newsrooms and editions in the United States and internationally, in print and online. He also had editorial responsibility for MarketWatch, the financial-news website. He was appointed managing editor in April 2007 and resigned one year later, after News Corp. acquired the Journal's parent company, Dow Jones & Co. Mr. Brauchli spent 15 years as a correspondent in Asia and Europe. He served as the Journal's national editor during the 2000 election, the corporate scandals of that era, and the Sept. 11, 2001, terrorist attacks, the Journal's coverage of which won a Pulitzer Prize.
Mr. Brauchli is a graduate of Columbia University. He was a 1991–92 Nieman Fellow at Harvard University and led or participated in projects that won two Overseas Press Club awards and two citations for excellence. He has served on the boards of the OPC and the International Center for Journalists, and is an advisor to the Knight-Bagehot Fellowships program at Columbia. He also is a member of the Council on Foreign Relations and the New York Economic Club.
Read the Transcript (PDF).