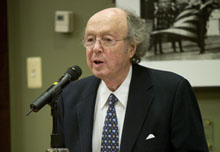 October 1, 2008 — Alex S. Jones, director of the Shorenstein Center, had no shortage of kind words as he introduced the inaugural Richard S. Salant Lecturer, Anthony Lewis. Lewis, a two-time Pulitzer winner, was "a man who has come to embody the battle to keep the First Amendment vibrant and vigorous," and whose work "opened the door to the robust and fearless national conversation that is at the heart of politics today." These sentiments were clearly echoed by the attendees.
Lewis began his lecture by touching on two views of the American press: "The first comes from James Madison at the end of the 18th Century. In a republic, he said, where the people not the government possess the absolute sovereignty, the press must be free to inform the people about the merits and measures of public men." The second came from Alexis de Tocqueville: "The hallmark of the American journalist is a direct and coarse attack without any subtleties on the passions of his readers. He disregards principles to seize on people, following them into their private lives and laying bare their weaknesses and their vices," Lewis said, and after a theatrical pause, noted the year these words were published: 1835.
The estate of Dr. Frank Stanton, former president of CBS, provided funding for the Salant Lecture is named in honor of his longtime friend and colleague, Richard S. Salant, a lawyer, media executive, ardent defender of the First Amendment and passionate leader of broadcast ethics and news standards.
Lewis earned his first Pulitzer for national reporting in 1955 and his second in 1963 for coverage of the Supreme Court. Lewis worked at the New York Times for many years, first as a deskman, as a reporter, as London bureau chief, and as a columnist.
This article was written by Leighton Walter Kille of the Shorenstein Center.