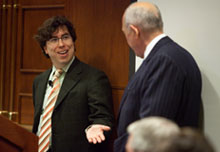 October 22, 2009 — Jonathan Zittrain, Professor of Law at Harvard Law School and co-director of the Berkman Center for Internet and Society, began the second annual Richard S. Salant Lecture on Freedom of the Press with a tour of the absurd: A job applicant being mistaken for a computer expert and interviewed live on the BBC; a presidential spokesman deciding to continue "on background" in the middle of a press conference, requiring that reporters thereafter describe him as a "senior administration official."
Such events illustrate how journalists can behave when they are "trapped in the script," said Zittrain. While the Internet can be seen as a threat to traditional news organizations, in such instances it "can actually help save [the press establishment] from its own growing mediocrity."
The event also included a special presentation to Ezio Mauro, editor of Italy's La Repubblica.
Zittrain was previously the Chair in Internet Governance and Regulation at Oxford University and a principal of the Oxford Internet Institute. He was also a visiting professor at the New York University School of Law and Stanford Law School. He was a co-founder of the Berkman Center, where he served as its first executive director from 1997 to 2000. Before receiving tenure, he was the Jack N. and Lillian R. Berkman Visiting Professor for Entrepreneurial Legal Studies at Harvard Law School.
With students, he began Chilling Effects, a website that tracks and archives legal threats made to Internet content producers. In February 2009 he launched Herdict, a website that collects and tracks self-reported inaccessible sites from around the world. He also performed the first large-scale tests of Internet filtering in China and Saudi Arabia in 2002, and as part of the OpenNet Initiative, he has co-edited a study of Internet filtering by national governments, Access Denied: The Practice and Policy of Global Internet Filtering. He is the author of The Future of the Internet — And How to Stop It, and several books on Internet law.
Zittrain holds a bachelor's degree in cognitive science and artificial intelligence from Yale University, a JD from Harvard Law School and a master's in public administration from Harvard's Kennedy School of Government.