Information Disorder Update: October 30, 2018
Social media users have raised a chorus of complaints and allegations during the midterm campaign about the purging of millions of names from registration rolls to suppress voter turnout. Several state governments have responded that their critics are mischaracterizing routine and legally mandated maintenance of the rolls to keep them current and to protect against fraud.
Mainstream journalists and academic analysts have investigated these competing claims, often in painstaking detail. But the social media version of the debate frequently loses or muddies the nuance — mistakenly or intentionally — to reinforce political arguments: Through one lens, people see a nationwide Republican conspiracy to make it much harder for minorities, younger voters and the poor to stay registered and vote; the digital flip side argues that tighter restrictions are essential to prevent vast numbers of undocumented immigrants from casting ballots illegally, despite the absence of evidence of significant voter fraud.
For example, conservatives have circulated alarmist tweets and memes to foster fears that hordes of illegal voters will head to the polls on Nov. 6. A Twitter account, @sweettweetertot2, with 119K followers, claimed on Oct. 7 that there are "millions of illegal voters" on the rolls in California. Such claims are widely shared by social media users to warn of looming fraud, even though only a handful of cases of illegal voting have been reported.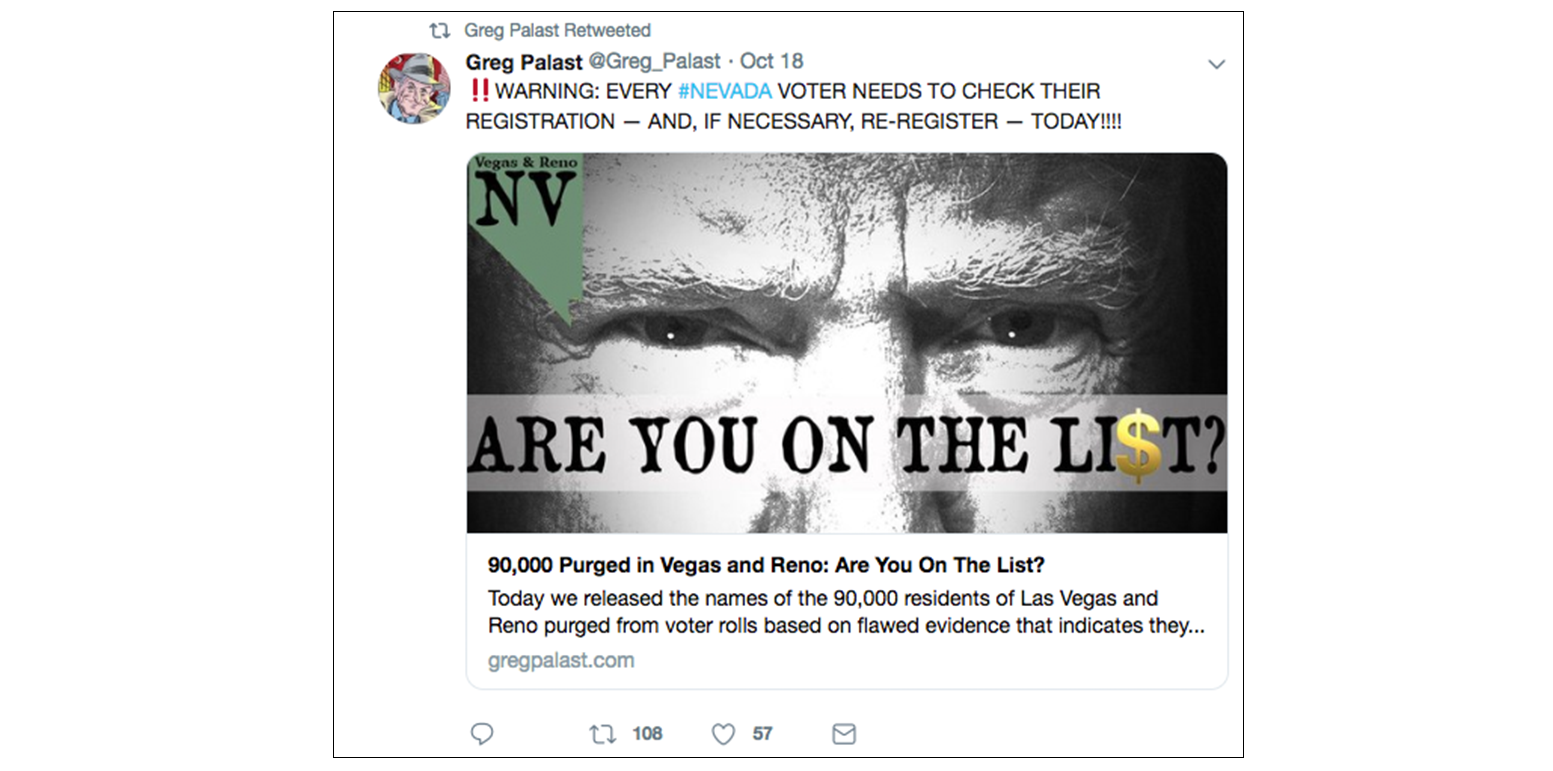 On the other side, freelance journalist Greg Palast has waged a vocal campaign against what he describes as systematic voter suppression in several states. He has released statistics and databases of purged voters in Colorado, Georgia, Illinois, Indiana, Nebraska and Nevada, and has
accused these states of disenfranchising hundreds of thousands of voters, violating the spirit or letter of the National Voter Registration Act.
His critics say Palast and his supporters have oversimplified or manipulated the issue to stir up fears of a conspiracy. Palast commands a substantial social media following (107K Facebook followers and 60K Twitter followers), and his work is frequently amplified online in forms that opponents say shave the context of voter roll cleanup.
Other analysts have raised separate charges of voter suppression in Florida (mainly targeting people of color) and North Dakota (making it harder for Native Americans to vote). Organizations including Occupy Democrats and Twitter users cite those cases as evidence of widespread, coordinated voter suppression.
The IDLab has collected a state-by-state roundup of different statements and claims questioning the integrity of the voting process across the country:
Georgia: Brian Kemp, the GOP candidate for governor, is secretary of state and oversees voting; his opponent is Stacey Abrams, who would be the first African-American female governor. Palast has joined a lawsuit against Kemp's office, which removed 590,000 names from voter rolls in 2017. Civil rights groups also sued the state over inaction on voter registration for 53,000 people, 70 percent of them African Americans, fueling claims of a suppression campaign. Rival claims argue that state vigilance is necessary: Breitbart reported that 276 percent of registered voters turned out in a primary vote in one precinct; the state answered that a local clerical error led to a wrong turnout report and that the real turnout number was about 20 percent, but the incorrect report spread online anyway.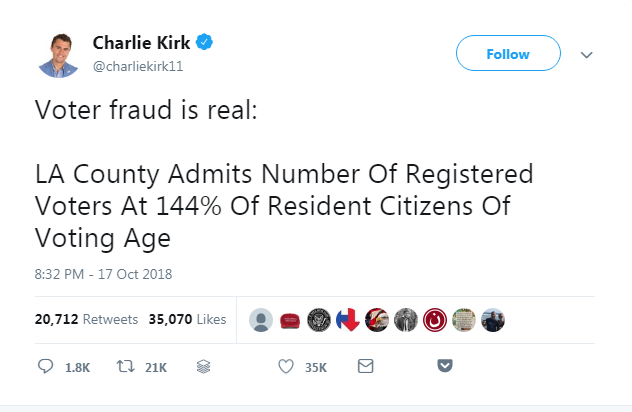 California: Judicial Watch, a conservative group, said 11 counties in California have more registered voters than eligible adults because of the failure to maintain accurate voter rolls. Judicial Watch's Election Integrity Project has sued California over what it calls "ghost voters." The data cited in the suit was essentially debunked by Snopes, The San Diego Tribune and The Sacramento Bee. Still, GOP secretary of state candidate Mark Meuser cited it in a video on Twitter claiming that Los Angeles County has "144% voter registration." Charlie Kirk, who has 776K Twitter followers and is founder of Turning Point USA, tweeted: "voter fraud is real: LA County admits number of registered voters at 144% of resident citizens of voting age." The state said the lawsuit is based on faulty calculations, and that California actually has 19 million registered voters out of 25 million eligible residents.
Illinois: Palast listed Illinois as one of the states that had removed voters and urged Illinois residents to check his website to see if they were among the 550,000 who had been purged. The Illinois State Board of Election responded that no living Illinois voter will be purged and that Palast is "using our data incorrectly." In any event, Illinois lets voters register at the polls on election day. Twitter users retweeted Palast's link and urged Illinois residents to see if they have been "purged."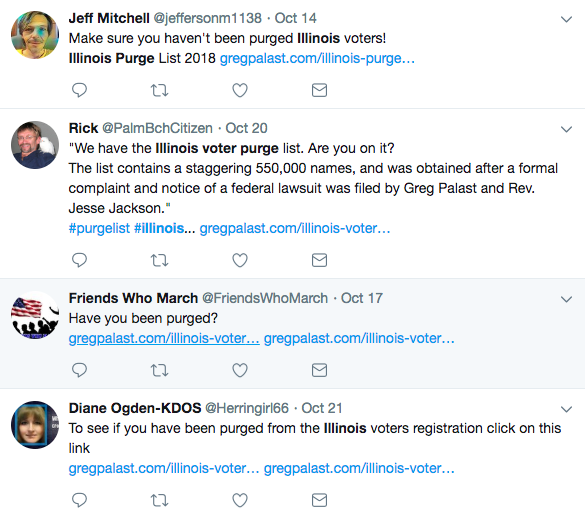 Indiana: Several tweets in October highlighted the removal of 460K voters in Indiana, stirring online audiences to see this as part of an overarching theme of election fraud and suppression across several states shortly before the midterm voting. A tweet by @NathanHRubin (66.8K followers) on the issue drew 94K retweets and 215K likes.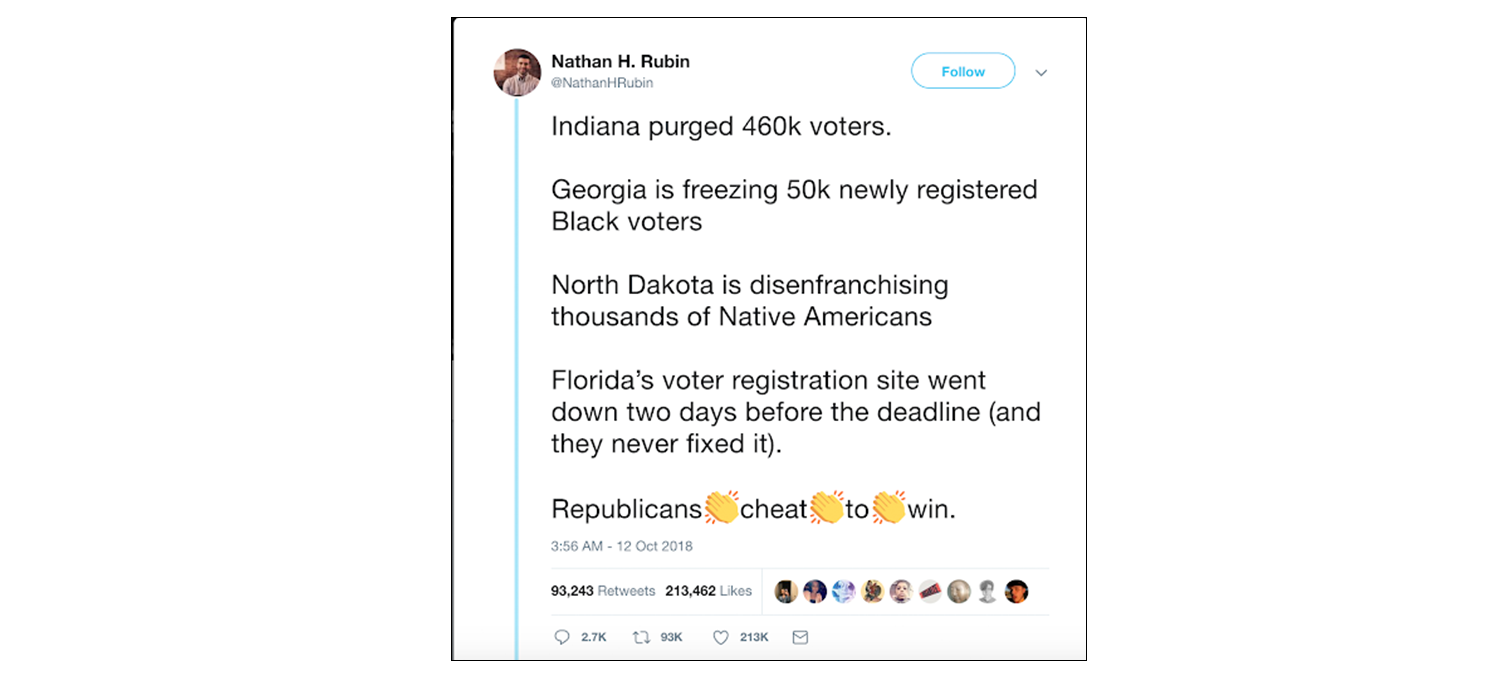 Florida: Florida's voter registration website went down in the days before the state's Oct. 9 deadline. With Hurricane Michael making landfall a day later, Florida faced two concurrent controversies. Florida Democrats sued to extend the voter registration deadline for one week, but a federal judge denied the extension. Florida's Secretary of State, Ken Detzner, denied that online voter registration was ever down, saying it merely experienced heavy traffic.
Texas:
The Texas Secretary of State rejected 2,400 voters' registration applications because the signatures on them were not handwritten. Some outlets later reported this as an instance of voter purging.
The Texas Democratic Party was accused of sending voter registration applications to non-citizens with the citizenship box already checked. The accusation came from a conservative voter integrity non-profit based in Indiana.
In October, four women were arrested on charges of running a voter fraud ring in Fort Worth. Their lawyer later accused Texas Attorney General Ken Paxton of bringing the case for political reasons.
North Carolina: According to the Brennan Center for Justice, a law and policy center at New York University, North Carolina purged 11.7 percent of its voters between Sept. 2016 and May 2018, higher than Georgia and Florida. The Brennan Center also reported that in 90 out 100 counties, voters of color were over-represented among the purged group. The state has attracted limited national attention and less social media traffic than states like Florida, Georgia and Texas.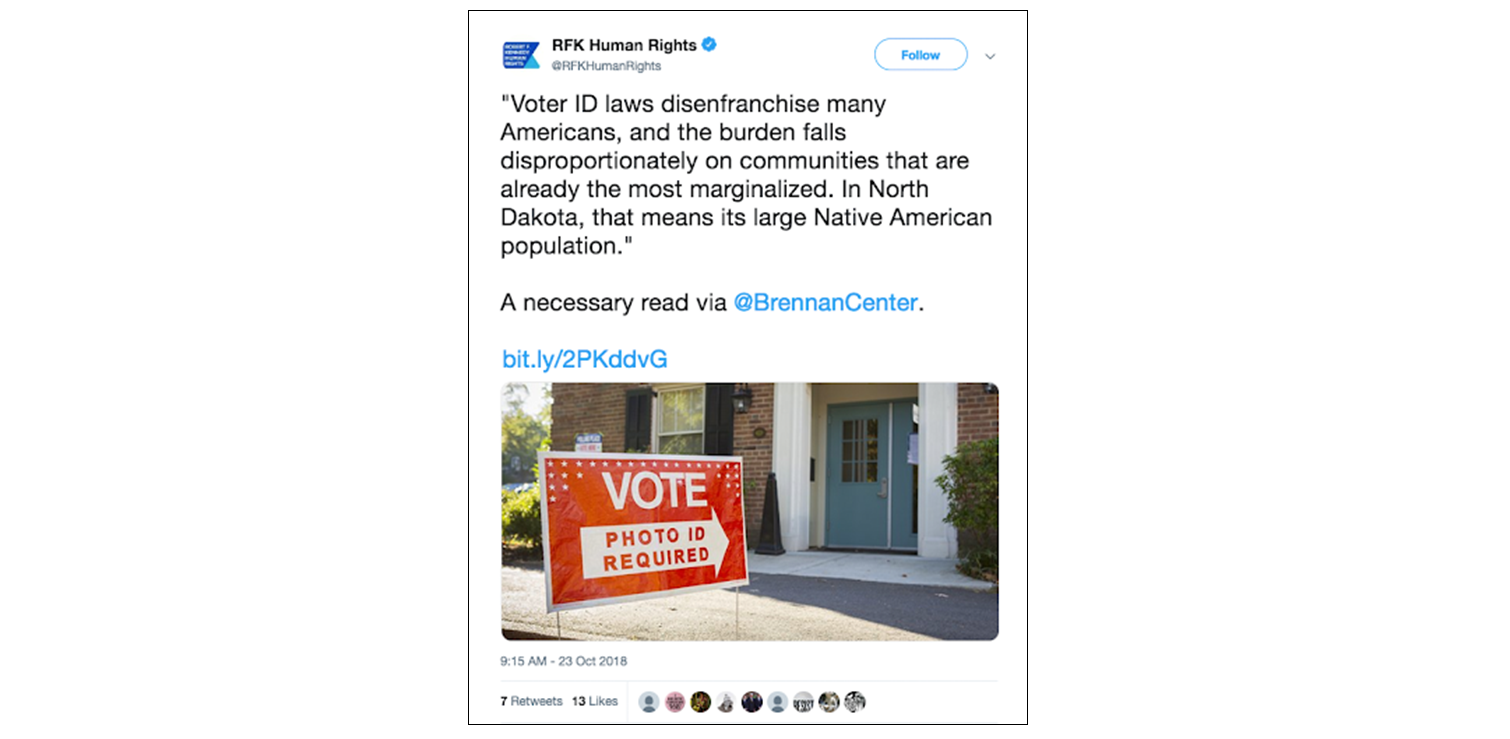 North Dakota adopted a new law requiring voters to have IDs showing a street address. That law, implemented between the primaries and the general election, has led to confusion and accusations of suppressing Native American voter turnout. That is because some Native Americans don't have formal home addresses. The Secretary of State's Office provided instructions on how to get an address assigned. Native American activists have planned to assign addresses outside polling places on election day, but the logistical feasibility and legality of doing so are not clear.
Colorado, Nebraska and Nevada: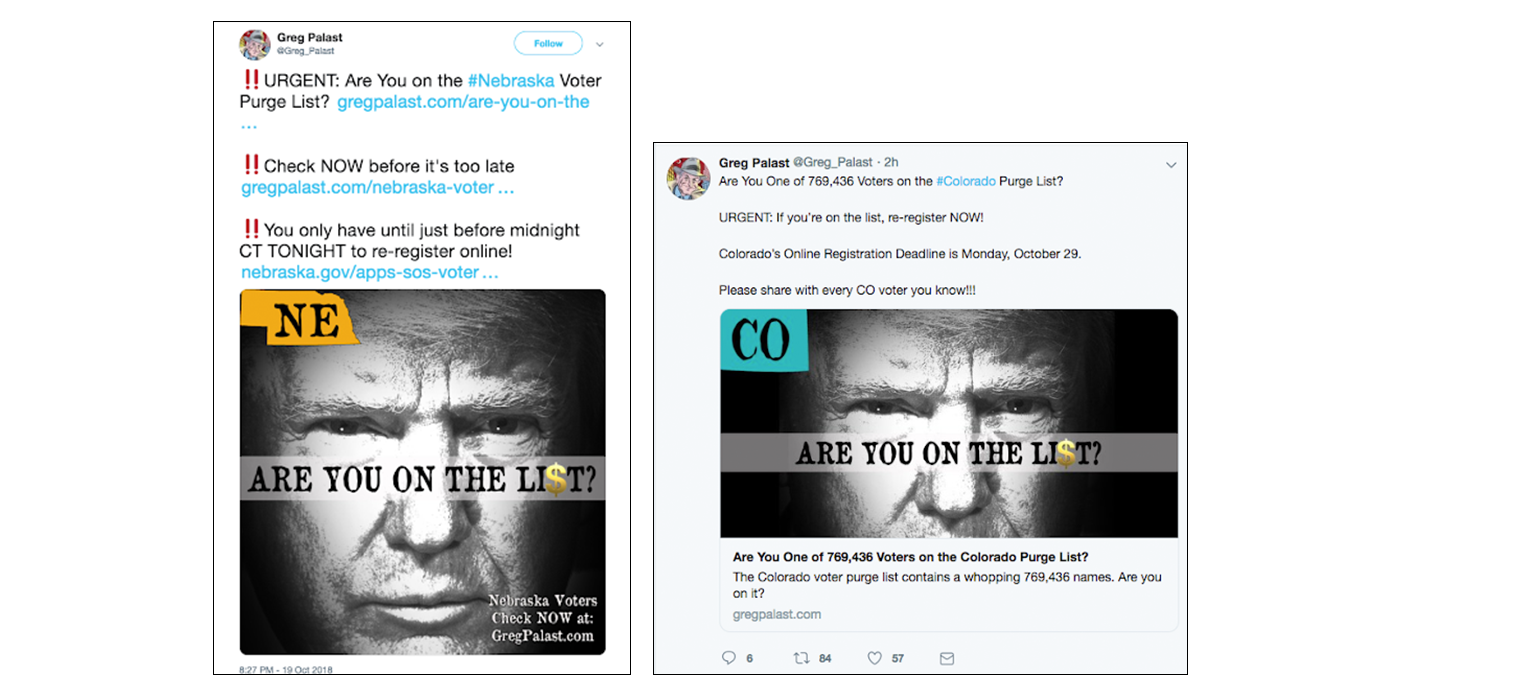 Palast obtained and published lists of voters purged from voter rolls in Colorado, Nebraska and Nevada. Palast says Colorado purged 769,436 voters, Nebraska purged 20,000 voters and Nevada purged 90,000 voters prior to the 2018 midterm elections. Palast obtained lists for Nebraska and Nevada "after a formal complaint and notice of a federal lawsuit was filed by Palast and Rev. Jesse Jackson." The Colorado Secretary of State, Wayne W. Williams, disputed Palast's claims as misleading. Voters can register on election day in Colorado.
– The ID Lab Team