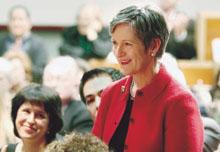 March 22, 2005 — The $25,000 Goldsmith Prize for Investigative Reporting was awarded to Diana Henriques, business reporter for the New York Times.
In her investigative report titled "Captive Clientele," Henriques exposed a trail of deceit through which thousands of American soldiers were sold misleading insurance policies, often by former military officials. The report's comprehensive look into the injustices suffered by these soldiers convinced the judges that Henriques should receive the Goldsmith Prize — an award for the story that best promotes more effective and ethical conduct of government, the making of public policy, or the practice of politics in the United States at the national or local level.
The Goldsmith Book Prizes were awarded to Paul Starr for the The Creation of the Media: Political Origins of Modern Communication and Daniel C. Hallin and Paolo Mancini for their book, Comparing Media Systems: Three Models of Media and Politics. In selecting the recipients, members of the selection committee look for academic and trade books which strive to improve public governance by exploring the role of the press in formulating public policy.
Andrea Mitchell, chief foreign affairs correspondent for NBC News, received the Goldsmith Career Award for Excellence in Journalism. In addition, a Special Award of Recognition was presented to Frontline and the BBC for "Ghosts of Rwanda," a documentary on the Rwandan genocide.
A speech by Mitchell concluded the first night of the award ceremony, which took place on the evening of Tuesday, March 22. Although she lauded journalism's power to provide "lasting images that, once stitched together, create our visual history," Mitchell's speech held a tone of caution. Condemning the use of video news releases and the government's increasing infiltration into the mainstream media, she warned, "if we journalists are going to continue enjoying our front row seats, we really have to do a better job of justifying our privileged access." According to Mitchell, journalists must walk a fine line, rejecting government encroachment so that they can retain their legitimacy, and thus, their audiences.
The Goldsmith Awards continued during the morning of March 23, with a panel discussion between the finalists for the prize in investigative reporting. Finalists included: Paul Donsky and Ken Foskett of The Atlanta Journal-Constitution; James Fallows of The Atlantic Monthly; Steve Suo and Erin Hoover Barnett of The Oregonian; Ken Armstrong, Florangela Davila and Justin Mayo of The Seattle Times; and Brett Shipp and Mark Smith of WFAA-TV, Dallas, TX. Panelists were asked to discuss their projects and some of the challenges faced within the field of investigative reporting. Alex Jones, Director of the Shorenstein Center, moderated the panel.
This year marks the 14th annual Goldsmith Awards, a program which honors excellence in journalism and encourages debate about the relationship between the media and the world of politics. Initiated in 1991 by a gift from the Goldsmith-Greenfield Foundation, the Goldsmith Awards have brought such accomplished journalists as Linda Greenhouse, Ted Koppel, and Bob Woodward to the Kennedy School.