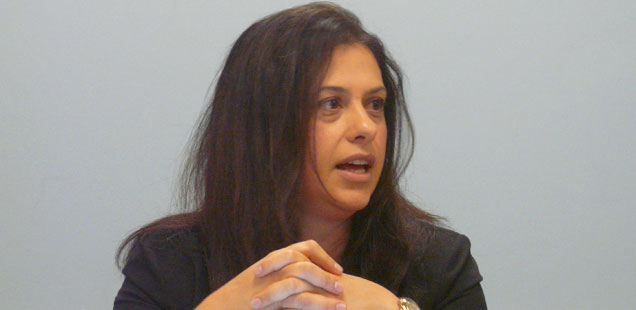 Tuesday, October 20, 2015, 12:00-1:00pm
Taubman 275
October 20, 2015 — Garance Franke-Ruta, editor in chief of Yahoo Politics and former Shorenstein Center Fellow, discussed the current state of women in politics and political media.
For the 2016 election cycle, "the picture is mixed" on the campaign trail, said Franke-Ruta. More women are covering political races than ever before, and women are running for office – yet the media still struggles with presenting women's voices, she said.
Some of the problems in media coverage are "clearly related to deeper structures." Sunday morning public affairs programs, which are "legendary" for their predominantly male lineups, often showcase opposition congressmen or congressional leaders. "In the Obama era, that's meant Republican men, because most of the women in Congress are actually Democrats," she said.
Achieving gender parity in elected office would require more women to run and be elected as Republicans, said Franke-Ruta, "a tough fact" for feminist and women's groups to confront. "It pits the dream of gender parity in office against their desire to elect women who share their feminist beliefs, and calls into question what the whole point of electing women to office is. Is it about representing a specific agenda for women that men have not been putting forward? Or is it about women having equal access to power and self-government regardless of their beliefs?"
Still, women are making progress, as "1996 was the last year that there was no woman running for the presidential nomination for either party." Since then, Nancy Pelosi became the first woman Speaker of the House, and Hillary Clinton has emerged as "the strongest female presidential contender in U.S. history," said Franke-Ruta.
Franke-Ruta described Clinton's campaign as being "light years better than it was in 2008," but said it was still "entirely possible" that she could lose the Iowa and New Hampshire primaries to Bernie Sanders. On the Republican side, she said it seems unlikely that Carly Fiorina's campaign will "make it past Iowa." Moving on to the general election, she doubted that there would be as much excitement about Clinton's campaign as there was for Barack Obama's. Clinton would likely have a harder time convincing voters of a "new, exciting agenda" owing to her long political career in the public eye.
Franke-Ruta then discussed Donald Trump's "unapologetic sexism" as a form of appeal. "That he has gotten the response he has so far tells us something about our present moment and how many people still look at women in public life," she said.
Regarding working in political journalism, Franke-Ruta compared it to sports journalism in that it still continues to be male dominated. Although campaign reporters and staff at digital media outlets tend to be younger and more diverse, this diversity soon tapers off. "More women come out of journalism school – of course there's going to be lot of women at the junior levels – what happens at every level above that?" Editors, managers and executives are still seeing "tremendous drop off," she said.
Hear Franke-Ruta speak more about Hillary Clinton's campaign and legislative record, the role of appearance and character in political coverage, Yahoo's campaign coverage strategy, and more in the full audio recording above.
Article and photo by Nilagia McCoy of the Shorenstein Center.