About the News Sustainability Program Lead: Dr. Elizabeth Hansen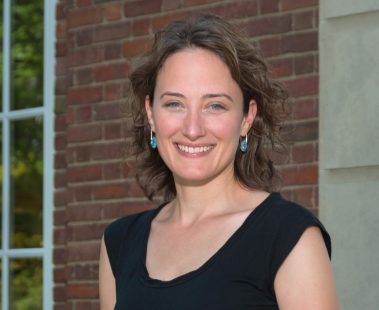 Dr. Elizabeth Hansen is a post-doctoral fellow and lead researcher of the News Sustainability and Business Models project at the Shorenstein Center on Media, Politics, and Public Policy at the Harvard Kennedy School.
Dr. Hansen's research and teaching interests are focused on the digital transformation of newsrooms, emerging business models to support local journalism, and the management of digital innovation. Most recently, under the supervision of former Shorenstein Director Nicco Mele, Dr. Hansen led the Single Subject News study, funded by the Knight foundation. This 2-year, cohort-based, participatory research project examined the strategies for audience growth and development in topically-focused digital newsrooms. She has published research on combining audience revenue and engagement strategies, the relationship between news publishers and social platforms, and the opportunities and challenges of funding local news.
Prior to joining the Shorenstein Center, Dr. Hansen was a Senior Research Fellow at the Tow Center for Digital Journalism at Columbia University where she contributed research to the Platforms and Publishers project examining the evolving relationship between news publishers and social platforms. While at Tow, she convened a series of collaborative workshops between Harvard and Columbia on open protocols in podcasting, and on the future of advertising. She continues to collaborate with the Tow Center in ongoing projects examining the rise of bridge roles in newsrooms and in a landscape review of public media. From 2016 – 2017, Dr. Hansen was a Fellow at the Berkman Klein Center for Internet and Society at Harvard University, and a Center affiliate from 2017 – 2019.
At Harvard, Dr. Hansen has taught in College courses in social entrepreneurship and organizational failures and disasters. This year, Dr. Hansen will teach strategy and managing organizational change as an adjunct lecturer in the CUNY Craig Newmark Graduate School of Journalism's Executive Education Program in News Innovation and Leadership.
Dr. Hansen's academic work focuses on the organizational and leadership dynamics of managing innovation in institutions. From 2014 – 2016, she conducted an in-depth ethnographic study of innovation and organizational change in public radio broadcasting. Her current academic projects include a study of changing newsroom structures with Elizabeth Watkins of Columbia Journalism School, and a study of the dynamics of platform competition in open-standard ecosystems with Richard Tee of the University of Surrey. She has given talks on sustainability and the future of journalism at the Nieman Foundation, the Berkman Klein Center for Internet and Society, and the Forum for the Future of Higher Education at the Aspen Institute.
Dr. Hansen received her Ph.D. in Organizational Behavior from the Joint Program in Organizational Behavior at Harvard Business School and the Harvard Department of Sociology.
Collection of Research and Commentary:
Dr. Elizabeth Hansen on the Web: