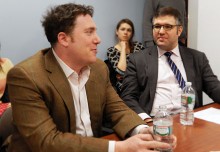 February 25, 2014 – Ben Smith, editor-in-chief of BuzzFeed, shared his insights on news models, and what works in today's media ecosystem. He said that Twitter has changed the structure of news distribution. Instead of news sites doing their own aggregation of content and tweaking SEO to index their sites and increase traffic, "Twitter is better at that." Now, he said, sites no longer fight to get readers on to their front page because the front page is becoming more and more irrelevant. He believes traditional journalistic values can be maintained, even if the business models change.
Listen to the audio on SoundCloud.
If the story below doesn't load properly, click here to view in Storify.
http://storify.com/shorensteinctr/ben-smith
Article and photo by Janell Sims, Shorenstein Center.