Lynette Lithgow Internship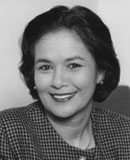 Lynette Lithgow was born in Trinidad but spent most of her life in the United Kingdom. Much of her career was with the British Broadcasting Corporation, having presented television news programs for the BBC regionally, nationally and internationally. She also worked for Granada Television in Manchester and for Tyne-Tees Television in Newcastle.
Her overseas postings were with Radio Television Brunei and with CNBC Asia, based in Singapore, where she was editorial training manager and senior anchor. Luminaries who faced her nightly questioning included President Kim of South Korea, Prime Minister Mahathir Mohamad of Malaysia, Singapore Senior Minister Lee Kuan Yew, Mexican President Ernesto Zedillo, former Indonesian President B. J. Habibie, New Zealand former Prime Minister Jenny Shipley, U. S. Commerce Secretary William Daley, Trade Secretary Charlene Barshefsky, Burmese opposition leader Aung San Suu Kyi and the deposed Malaysian Deputy Prime Minister Anwar Ibrahim, in an exclusive interview only hours after he was sacked.
She was the author of Special Blend: Fusion Management from Asia and the West, which explores the impact of culture and history on Asian management styles.
The Internship
The Lithgow Internship Fund was established in Lynette Lithgow's honor and provides an opportunity for students to gain practical experience within the field of journalism. A stipend of $3,000 will be awarded to a Harvard Kennedy School student who has secured a summer internship position working for a news organization. Students are responsible for obtaining employment, and the position should be full-time and last a minimum of eight weeks. The Lithgow Internship is intended to benefit students with nonpaying or low-paying positions.
How to Apply
Applications for Summer 2023 will open soon!
Recipients
2021: Morgan Brewton-Johnson: The Boston Globe
2020: No award given due to the COVID-19 pandemic
2019: Isabella Borshoff: ProPublica, Brussels
2018: Daniel Alphonsus: Caixin Media (Beijing, China)
2017: Jose Alfaro: VICE News, Mexico City
2016: Shanoor Seervai: STAT News, Boston
2014: Stefanie Knoll: ARD, German public television (Washington, D.C.)
2013: Karly Schledwitz: MSNBC, The Daily Rundown with Chuck Todd
2012: Razvan Orasanu: Hotnews.ro (Romania)
2011: Matt Mabe: WBUR, On Point with Tom Ashbrook
2010: Euyhun Yi: Sisain magazine (Korea)
2009: Carrie Sheffield: Jerusalem Post
2008: Nik Steinberg: Global Post
2007: Massimiliano Santini: Business Daily (Kenya)
2006: Kaj Larsen: Current TV
2005: James Crabtree: The Economist (U.K.)