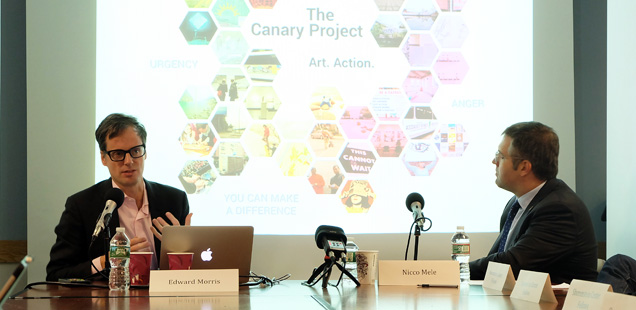 November 14, 2017— Edward Morris, Professor of Practice in the Department of Transmedia at Syracuse University's College of Visual and Performing Arts, discussed how art can complement and further the goals of activism during a visit to the Shorenstein Center.
Morris works with photography, video, writing, and installation, in collaboration with his wife Susannah Sayler as Sayler/Morris. In 2006 Sayler/Morris co-founded the Canary Project, a collaborative that produces visual media and artworks that deepen public understanding of climate change and other ecological issues.
Below are some highlights of Morris's conversation with Shorenstein Center Director Nicco Mele, as well as the full audio. The Shorenstein Center's podcast is also available on iTunes, Google Play, iHeartRadio, and Stitcher. Download the accompanying presentation (PDF). 
The tension between art and activism
"Art is that type of media or cultural product that produces questions faster than it blossoms answers, and it has some element of poetry…activism is about consolidating around a purpose or a mission…that lack of complexity sometimes is at odds with art."
"When [art] becomes too rhetorical, too overdetermined, too pre-interpreted, people don't look at it very closely, or they're turned off by it, and it can lose its emotional impact."
How art can further activism
"When I was here as a Loeb fellow at the [Harvard] design school, I had the opportunity to interact with Marshall Ganz and was really influenced by him. One of Marshall's points is that any social movement, to be successful, needs to operate with five emotional cylinders…hope, solidarity, feeling you can make a difference—but also urgency and anger, and I feel sometimes on the left we lose track of those less polite emotions, urgency and anger."
"Whatever project we're doing, whether it's a contemplative piece in a gallery, or whether it's an active piece of poster art or something where we're participating in a demonstration, I feel like the way we're contributing to social movements is by producing these emotions that social movements need as part of their narrative. So the art might be doing many different things, it might be spurring many different thoughts and emotions, but these are the ones that I think directly contribute to social movements, and I think social movements are the engine of change…we see our job in respect to social movements as fomenting public sentiment."
Art in public spaces
"This is a project called HighWaterLine, it's by an artist named Eve Mosher. Eve wanted to produce this project where she mapped out 80 miles of coastline in Brooklyn and Manhattan showing how climate change would affect flooding in the city, both through sea level rise and increased frequency of dramatic storms…doing this project, which got out in front of the public, ended up being very mediagenic. The New York Times picked it up, put it on the front page of their art section, the Discovery Channel did a thing on it, etc."
"The line is the 10 feet above sea level line, and what that represents in climate change terms is what insurance companies recognize as the hundred year flood line…because of climate change, floods will become much more frequent and start pushing back that line…anything on the other side of that line for all intents and purposes becomes un-insurable, and this line happens to go right through the middle of the World Trade Center."

"Another project we did is Green Patriot Posters. This is pretty much a direct activist project. We started looking at some of the graphic design that was available in social movement groups, and thought that it could use a face lift or some kind of invigorating energy… in this case, our role was to make the overall design brief and the packaging of the project. We started a website, we started getting submissions, we had very famous people submit like Shepard Fairey and DJ Spooky, and that gave the project authority. Ultimately, the goal was to put these messages out into the world…one of the first things we did was a bus ad campaign with Michael Bierut from Pentagram, and this got a lot of media attention."
Art in the gallery
"This is a project that we're doing on water in California, and specifically the co-option of water resources by moneyed interests in the Central Valley. So we follow a flow of water from its origin in the headwater in Sierra Nevada to its end use in big agriculture, and use that as a way of telling an economic and colonial history of California. It's a more academic, more complicated project, it may have less of an audience, but I still think it's contributing to these social movements, even if that's not its primary objective."
Article by Nilagia McCoy; event photo by Allie Henske. Artwork images courtesy of Edward Morris.