Speaker Series: Farai Chideya and Zack Exley – Understanding the Electorate
Tuesday, March 7, 2017
12:00 pm -
1:00 pm
EST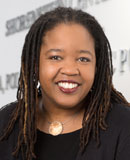 Farai Chideya, Joan Shorenstein Fellow, senior writer at FiveThirtyEight. 
Farai Chideya has covered every election since 1996 for outlets including CNN, NPR, and, in 2016, FiveThirtyEight, where she is a senior writer. Chideya is the author of six books, including Trust: Reaching the 100 Million Missing Voters, The Color of Our Future and Don't Believe the Hype: Fighting Cultural Misinformation about African-Americans. She was the founder and editor of PopandPolitics.com in 1995, an early political website and journalism training institute. She was a fellow at Harvard's Institute of Politics in the spring of 2012 and graduated from Harvard College in 1990. While at the Shorenstein Center, Chideya will write about the role of race and gender in political press coverage in 2016.
Zack Exley, Joan Shorenstein Fellow, political and technology consultant, advisor to Bernie Sanders' campaign
Zack Exley is a political and technology consultant who worked as a senior advisor to the Bernie Sanders campaign. He has worked as a labor organizer for SEIU, UAW and AFL-CIO, organizing director at MoveOn.org, director of online organizing and communications for John Kerry's presidential campaign, co-founder and president of New Organizing Institute, and chief community officer and chief revenue officer for the Wikimedia Foundation. He has also worked at ThoughtWorks, a global IT consultancy. While at the Shorenstein Center, Exley will write about the role of the news media in creating narratives around conservative Christians and secular progressives.