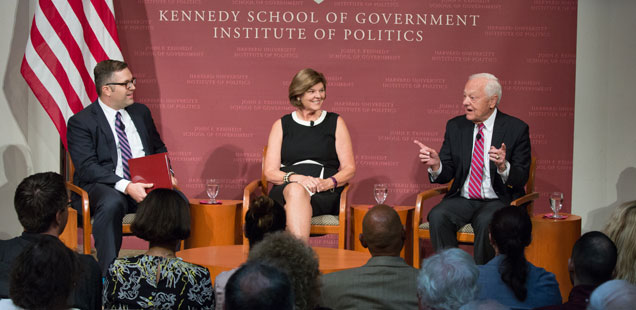 Tuesday, September 20, 2016, 6:00 p.m.
JFK Jr. Forum, Littauer Building
A conversation on the state of the 2016 presidential campaign and its coverage in the media, with Bob Schieffer, Ann Compton and Nicco Mele (moderator). Co-Sponsored by the Institute of Politics. Listen to audio of the event on SoundCloud or iTunes, or watch the video below.
Bob Schieffer is the current Walter Shorenstein Media and Democracy Fellow. He has been a reporter for more than half a century and was a part of CBS News for 46 years. He is one of the few reporters in Washington to have covered all four of the major beats: the Pentagon, the White House, Congress and the State Department. Schieffer anchored the Saturday edition of the "CBS Evening News" for 23 years, became the network's chief Washington correspondent in 1982 and was named the anchor and moderator of "Face the Nation" in 1991. Within these roles he has interviewed every president since Richard Nixon and moderated three presidential debates. Throughout his career Schieffer has written four books, won numerous awards and covered every presidential race and nominating convention since 1972.
Ann Compton is a visiting fellow at the Institute of Politics for the Fall 2016 semester. She was the first woman assigned by a television network to cover the White House and her longevity and impact have been considered unmatched over the span of her 41 years on the air for ABC News. After retiring from daily coverage in 2014, Ann was brought back to cover the 2016 political conventions for ABC. Ann's career at ABC News spanned 7 presidents and 10 presidential campaigns for the network. She was assigned to the White House in 1974, as the Watergate scandal came to an end. She reported for all ABC News broadcasts and online from the lawn of the White House, from Capitol Hill, from the campaign trail, and from around the globe traveling with Presidents, Vice Presidents, and First Ladies. Her retirement was announced by President Barack Obama who called on her at a West Wing news conference saying, "Ann Compton, everybody here knows, is not only the consummate professional but is also just a pleasure to get to know."
Nicco Mele (moderator) is the Director of the Shorenstein Center on Media, Politics and Public Policy. He took over leadership of the Center in 2016 after serving as Senior Vice President and Deputy Publisher of the Los Angeles Times and as the Wallis Annenberg Chair in Journalism at the University of Southern California. He is the author of The End of Big: How The Internet Makes David the New Goliath and co-founder of EchoDitto (now Echo & Co.), a leading internet strategy and consulting firm. Mele also is a board member of the Nieman Foundation for Journalism at Harvard and a Senior Fellow at the USC Annenberg Center on Communication Leadership & Policy.