Research & Publications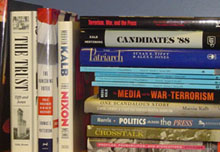 The Shorenstein Center publishes reports and papers written by fellows and affiliated faculty members that examine themes associated with press, politics and the making of public policy.
Recent papers have examined subjects such as how women political candidates use social media, how the presidential primary debate system could be reformed, and how the media cover climate change.
Papers by former fellows have added significantly to the body of research on press and politics. The Shorenstein Center has had more than 200 Fellows since 1986, and the papers they wrote at the Center form the basis of numerous books, including such compilations as Terrorism, War and the Press(2003) and Politics and the Press: The News Media and Their Influences (1997).