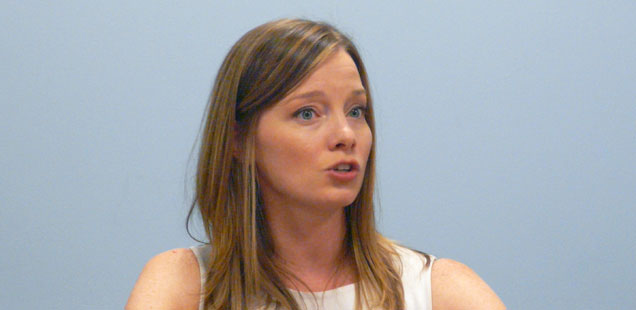 Our weekly roundup of news found at the intersection of media, politics, policy and technology, from the Shorenstein Center and from around the web.
This Week at the Shorenstein Center
Can Republicans Win Millennials in 2016? Kristen Soltis Anderson, co-founder of Echelon Insights, an opinion research, data analysis and digital intelligence firm, discussed the divide between the Millennial generation and the Republican Party, and what the party can do to better resonate with young voters in future elections. Read more and listen to audio.
Jaron Lanier: The Digital Economy Since Who Owns The Future? Jaron Lanier, computer scientist and author of Who Owns the Future? and You Are Not a Gadget, discussed how the current digital economy, driven by automation and efficiency, is on track to leave large segments of society behind economically. Read more and listen to audio.
Polling Fundamentals and Concepts: An Overview for Journalists, from Journalist's Resource.
News from Our Faculty & Fellows
Lessig Raises $1M for 2016 Campaign. Steve Jarding, Lecturer in Public Policy, comments on Lessig's candidacy in The Hill.
Trans-Pacific Partnership is Reached, but Faces Scrutiny in Congress. From Jackie Calmes, Joan Shorenstein Fellow (spring 2015) and national correspondent for The New York Times.
Four Challenges Facing Newly Elected Climate Chief. Matthew C. Nisbet, Joan Shorenstein Fellow (fall 2012) and Associate Professor of Communication Studies at Northeastern University makes a case for including sociologists, psychologists, anthropologists and political scientists when framing climate issues, in Nature.
From around the Web
Gallup Gives Up the Horse Race, from Politico.
Why We're Experimenting with Online Polling, from the Los Angeles Times.
Outside Groups Playing Bigger Role in 2015 State Elections. An analysis of TV advertising data from The Center for Public Integrity.
Contrasting Partisan Perspectives on Campaign 2016, from Pew Research.
Donald Trump's Act Seems to Be Wearing out Its Welcome. The New York Times reports on waning media interest in Trump's campaign.
California Libel Protection Now Covers Online Publications, from Columbia Journalism Review.
How to Do Data Journalism on the Cheap, from MediaShift.
Tasneem Raja on How NPR's Code Switch Navigates the Increasingly Crowded Race-and-Culture Beat, from Nieman Lab.
Sign up to receive Media and Politics Must Reads in your inbox each week. Also connect with us on Twitter and Facebook for more updates.